Smart 25 25Nm 50kg Tubular Motor for Rolling Shutter
Technical features:
Pipe diameter: 45mm;
Limit switch: Mechanical;
Power supply: 230V / 50Hz;
Running time: 4min;
Absorbed power: 190W;
Ampere: 0,8;
Max turns circle: 31;
Noise level: ≤ 45dB;
Degree of protection: IP44;
Shutter weight (indicative range): 50kg;
Torque: 25Nm;
Supplying cable: 1,5 meter - 4x 0,75.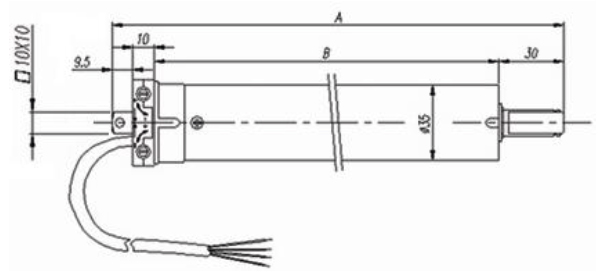 Dimensions: 55,6cm A, B 50,2cm.
Weight: 2,65kg.
This line of tubular motors with mechanical limit switch and Ø 45mm, has been specially designed for the shipbuilding industry.
Complies with EN60335-1-95 and EN60335-2-97 directives / 10-2000.
Certifies CE and TUV.