Electric locks prices and offers: discover the best models
The
electric locks for doors
sold online on Windowo are made by the most famous brands in the
lock
sector.
An
electric lock
is equipped with a push button system that allows it to be opened in the simpler models, while the more advanced models can become real
intelligent locks
.
We open the doors to the latest technological discoveries in terms of locks. Here we explore the world of electric locks, practical solutions for access control.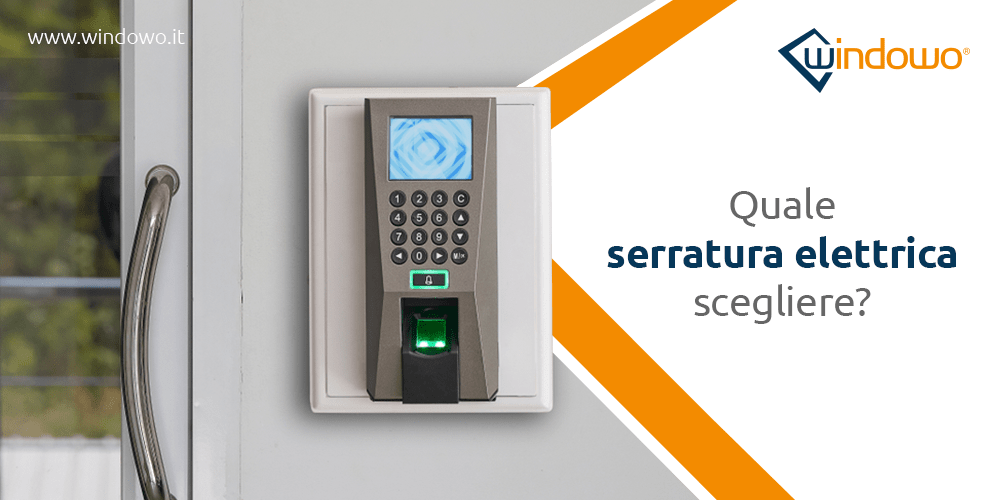 Bye, bye dear old keys!
Today we are talking about electric locks
, devices that use various technologies for opening and closing doors. Why are they useful? First and foremost, they
are practical and safe
- they also eliminate the risk of duplication of keys by malicious people. Secondly,
they are perfect for access control
.
But which type to choose? In this article we will see how
4 types of electric locks
work:
lock with biometric recognition (with fingerprint);
bluetooth lock, to open the door with the smartphone;
lock with numeric code , then with a keypad and a pin;
lock with reading of a badge .
Fingerprint lock: Open the door with your finger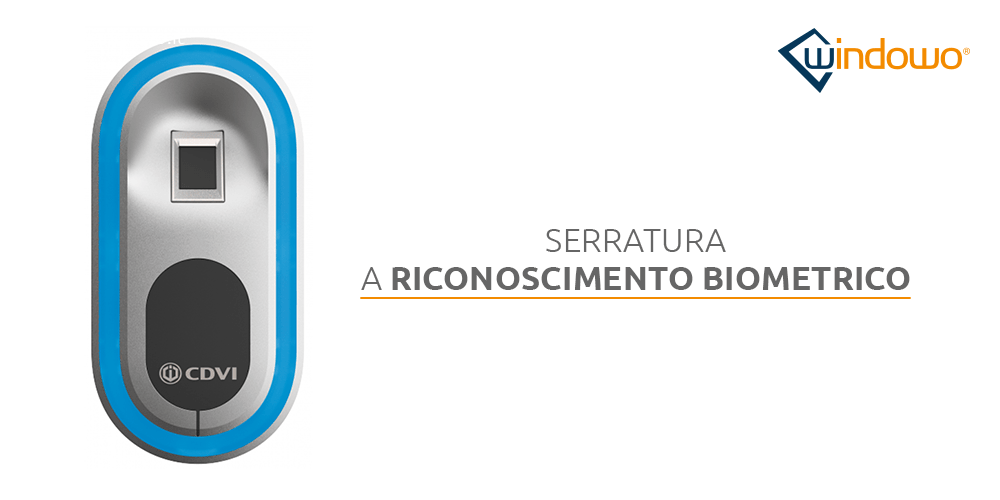 To understand how this type of device works, let's take as an example a model that you can also find here on Windowo: the
BIOSYS 1 fingerprint reader
(you see it in the image above).
How to register fingerprints
Once the system is installed, fingerprint registration takes place in
three quick steps
:
a master card (a card) passes on the reader which sets the tone for the process;
then you pass a second card on the reader, the user card (10 are delivered together with the reader, and each corresponds to a different user);
finally register the fingerprint.
How to enter the house
After registering the various cards and fingerprints, to enter the house you have to swipe your registration card - which therefore has the function of an access badge - on the reader and then place your finger on the reader.
How secure is a fingerprint reader?
The system is completely safe because, as we know, each footprint is unique. Furthermore, BIOSYS 1 is also equipped with a sensor that detects any tampering. What if I want to remove access to a user? Simple: just delete his registration card.
On Windowo you will find other electric locks with fingerprint: see also
OPERA biometric readers
.
Bluetooth lock: the keys ... in the smartphone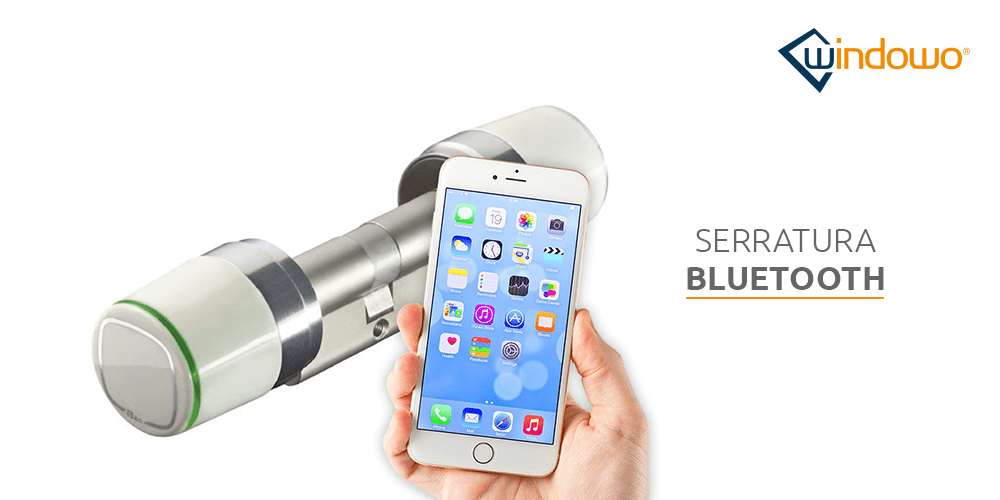 Are you the kind of person who does everything with a smartphone? Well, I inform you that you can also use it to open the front door. We are talking about bluetooth electric locks, perhaps the most futuristic of all. Also in this case, to make things easier, we refer to a specific product: the
Libra Smart cylinder
, one of the Iseo electric locks. Libra Smart works together with the Argo app, a master card (which you need for system initialization and subsequent access programming) and user cards.
After the initialization procedure with the master card,
just install the lock cylinder on the door instead of the mechanical one
: it does not require any wiring and, as stated on the product data sheet, "it can be installed on every door and lock that is equipped with the predisposition for a European profile mechanical cylinder ".
How the door opening works
Once the cylinder is installed, you can enable various devices for opening:
Smartphone or smartwatch ;
Badges (the tabs for users I mentioned above) or tags (it's always good to have an alternative to opening with mobile devices, in case they go out).
Opening and closing of the door from the inside , on the other hand, are manual, using a knob.
How accesses are managed
The administrator can add and delete devices / users through the app
and can also
set time slots for each
. This solution is very useful if you use your home as a B&B or make it available to guests occasionally, or if you want to give temporary access to a friend or relative who must enter your home when you are not there. You can also
email instructions to self-register your smartphone
and use it as an access key.
Ah, you also have the option to view a history of the last 1,000 accesses.
Also take a look at
the Sclak access control system via smartphone
.
Code lock: safety in numbers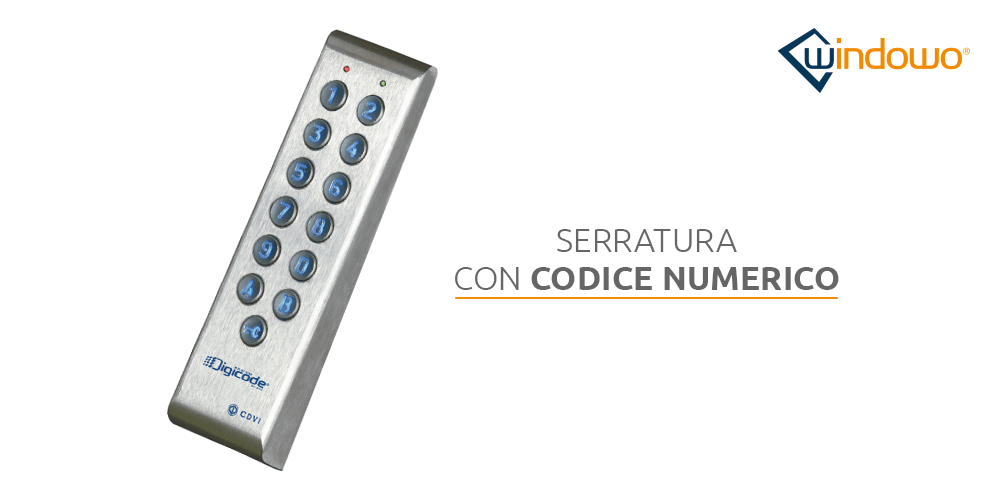 Code locks are the third type of electric lock we will talk about. These are numeric keypads which register one or more PINs and which, depending on the model,
can be used with the PIN, with a transponder or with both
.
Keypads are often backlit, so as to facilitate PIN entry even in poor visibility conditions, and emit sounds to provide acoustic feedback. Small details that improve the user experience.
Would you like to know more? Discover the
locks with numeric code that can be purchased on Windowo
.
And now, let's move on to the fourth and last type of lock.
Lock with badge: a simple gesture et voilà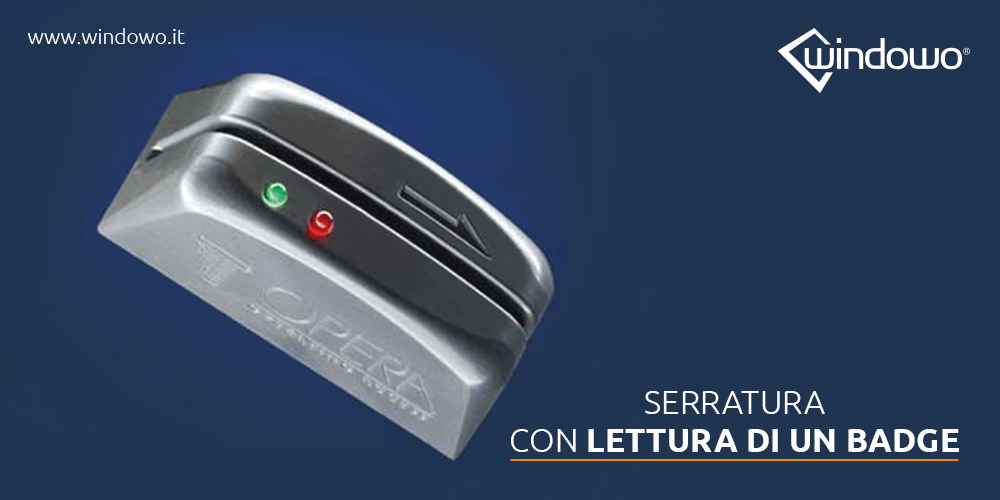 Badge locks are perhaps the ones we are most used to, as most hotels use them now. Here, you can also bring this solution to your home or office, to the front door and also - why not? - for the door of a "top secret" room (I don't want to know what you keep in there, whether gold bars or a collection of unobtainable comics).
There are two types
of badge readers
:
swipe card reader , like the one you see in the image above;
transponder card reader or proximity reader , where the badge is simply brought close to the device.
Perfect, we are almost in the pipeline. Before you go, read the tips I leave you below.
General advice for choosing an electric lock
I close this in-depth analysis with a list of tips to guide you in the choice that best suits you:
Find out about the installation methods , so as to immediately understand if you can do it yourself or if it is better to rely on a technician.
If you have to place the device outdoors , make sure it is resistant to rain and, in general, to atmospheric agents: remember that there can be multiple versions of the same product, for indoors and outdoors.
If you want to apply an electric cylinder to an armored door , make sure it is also compatible with the defender (Libra Smart, for example, is).
Ask how the electric lock works in the event of a power failure , so you know what your options are if this situation arises.
Look at the maximum number of users allowed , especially if you have a lot of accesses, in order to understand which system best meets your needs.