The best system for the insulation of roller shutter boxes
In the context of the energy redevelopment of a building, the compartment of the box that houses the roller blind (roller shutter box) represents one of the most critical points of all. In fact, the air at the outside temperature enters the roller shutter box through the sliding slot of the fabric.

The situation of the roller shutter box is then aggravated by the slot where the belt runs, a real through hole that connects inside and outside. As a result, roller shutter boxes very often waste more energy than the windows themselves.

How to best insulate the roller shutter box?
As a solution to the problem of insulating the roller shutter box, we offer you a new thermal and acoustic insulation system for the internal compartment of the roller shutter box , which is very simple to perform and very economical to make. The results of the box insulation intervention are really surprising.

Customized roller shutter insulation kit for existing roller shutter compartments
The great advantage of this roller shutter insulation system is the great versatility and simplicity of execution that make it suitable for any roller shutter box and within the reach of anyone interested in carrying out this work. The equipment necessary to insulate the shutter boxes are in fact minimal and the difficulties non-existent.

How to insulate the roller shutter box? The box kits for roller shutters are made to measure, here are the versions that you can find for sale online on Windowo:

If you are interested in this topic box insulation you can also watch our video dedicated to how to insulate roller shutter boxes: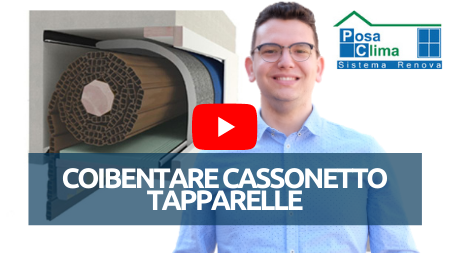 Do you have doubts about how to insulate the roller shutter box? For any clarification on the insulation of the roller shutter box, we remain at your complete disposal.