Motorized mosquito nets for sale online at the best price
Did you know that there are customized motorized mosquito nets ? They exist and they can make our life easier and more comfortable.

In fact, insect screens with motor are part of that part of home automation that can help us every day.

They are not just a great convenience: a motorized mosquito net can be essential, especially for those people who find it difficult to open and close themosquito nets .
Motorized mosquito nets: how do they work?
In the warm season, mosquitoes arrive that disturb sleep. To protect yourself from insects at home, it is useful to use automatic mosquito nets to be installed on doors or windows.

In fact, motorized mosquito nets have the same important task as classic mosquito nets and that is to protect us from insects. Frame, nets and other elements are the same, including the ability to fit into the context of the window .

The main feature of a motorized insect screen is that the motor allows it to open and close by itself , as in the case of shutters equipped with motors for shutters .

There are several methods to operate motorized insect screens, the most used below:
Presence sensors : you approach, the sensor senses the presence and the mosquito net opens as if it were an automatic door;
Touch buttons : the mosquito net opens by touching the button;
Remote controls: the mosquito net opens when you press the remote control button;
Other devices : for example if the room is small you can prevent the sensor from activating for each movement.
Motorized mosquito nets: what are the advantages?
The sliding mosquito nets for French windows in the version with motor do not have a guide in the lower part of the frame. The fact that they are mosquito nets without a ground guide allows people to pass quietly without the possibility of tripping. This feature is even more useful in the case of disabled or elderly people.

Motorized mosquito nets are also perfect for doctors' offices, clinics, restaurants and kitchens where it is useful not to use your hands to open the mosquito net (for hygiene reasons).

Or you can choose a smart mosquito net simply for the convenience of getting in and out without lifting a finger.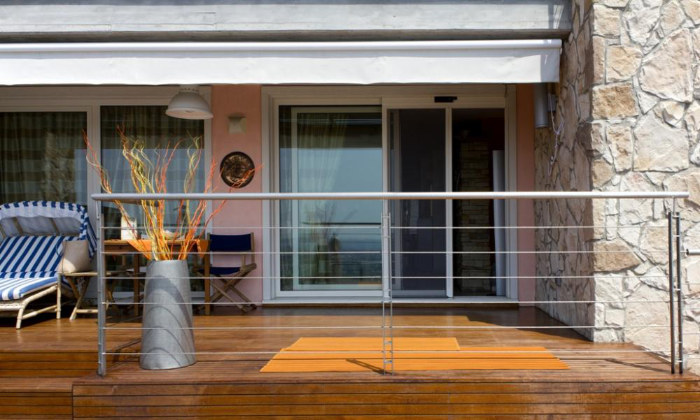 Motorized mosquito nets: which models to choose?
The convenience of electric mosquito nets depends on the technological devices they are equipped with.

After years of experience we can confirm the quality of Bettio mosquito nets, at the forefront in the design of technical and construction solutions.

In particular we recommend these models:
Motoscenica Bettio : motorized mosquito net for French windows or balconies with simple and reliable electric motor;
Moovica Bettio : vertical insect screen for windows equipped with an electric motor to automate opening and closing;
Estetika Motorized Bettio : mosquito net for anti-bug windows with rechargeable battery motor.
Motorized mosquito net price and special offers
You can buy the models of motorized insect screens at the best price online on Windowo.