Bettio Flyscreens: made to measure mosquito nets
Bettio Mosquito Net Flyscreens
, a leading company in the sector of
custom-made mosquito nets
, owes its evolution to the determination and resourcefulness of its founders.
On Windowo there are many models of
mosquito nets for French windows
and as many
mosquito nets for windows to
choose from such as
Scenica , Miniscenica, Picoscenica, Revolux, Lisa, Flash, Sonia, Mini, Rosy , Alba
and many others.
Customize the sizes and colors
of your new
Bettio mosquito net
and immediately discover the discounted price!
Bettio Mosquito Net Flyscreens: open your window!
Thirty years ago Bettio entered the market with a precise and unprecedented idea: to propose mosquito nets not only as a functional object, but as a real piece of furniture, combining the search for practicality with aesthetic refinement.

Bettio changed the world of mosquito nets and continues to do so for 30 years
In the 90s, Bettio began the large-scale production of mosquito nets and today, united under a single Bettio Zanzariere Flyscreens brand, operates in the international market in 2 divisions:
Bettio Service
, dedicated to the production of custom-made mosquito nets and
Bettio Group
, production-oriented of semi-finished systems for mosquito nets.
Success is not accidental: Bettio bases its mission on products of excellence, a skilful mix of technical skill, technological innovation, constant research and a close-knit team. Furthermore, the ability to involve its customers in exciting events make Bettio the ideal partner for the development of one's projects.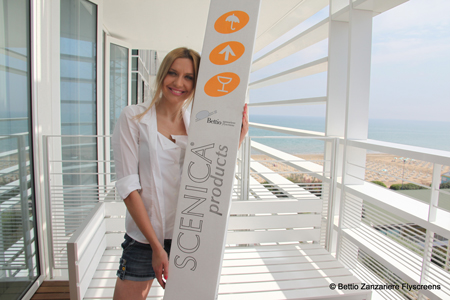 Bettio Service: customized mosquito nets
First born of the Group, Bettio Service dedicates itself with constant passion to the production of customized mosquito nets, blinds and filters. Although a long time has passed since its inception, the goal of Bettio Service has remained unchanged: to produce innovative, practical, functional and above all high quality mosquito nets, objects that last over time and harmonize within the home like a real article of furniture.
Patented mechanisms
, innovative solutions, product safety guaranteed by the CE marking, precision and punctuality of deliveries and an effective pre and post sales customer service: thanks to all this, our products are now known and appreciated by millions of Italians who have installed Bettio mosquito nets in their homes.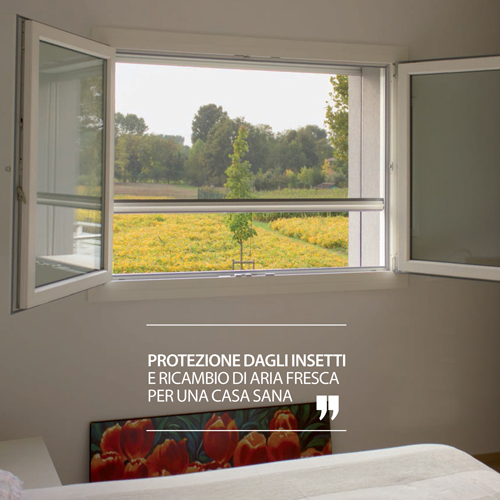 Bettio Group: semi-finished systems for mosquito nets
Established a few years after the made-to-measure division, Bettio Group specializes in the production of
mosquito nets in reducible piece kits
and 6-meter semi-finished bars. Thanks to the combination of highly mechanized production and continuous technological innovation, Bettio Group productions have quickly conquered an important space not only in the domestic market, but also in the international arena.
Thanks to three series of mosquito nets with different technical characteristics, but still characterized by a high quality standard, great application versatility and completeness of solutions, the proposals of Bettio Group are certainly able to satisfy the expectations and requests of the most demanding customers.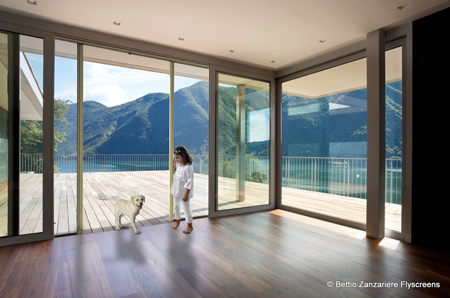 Bettio mosquito nets are sustainable
In an era in which talking about the "
green economy
" has almost become a fashion, Bettio carefully evaluates the environmental impact of its products. This vision pushes the company to design, produce and offer products created with high-quality, long-lasting materials, which require very little maintenance for their final use.
In this perspective of sustainability, the choice of a material such as aluminum, 100% recyclable, fits perfectly with the company's "green" philosophy, which is confirmed by the recycling of production waste which is now close to totality.

Discover the Scenic Mosquito Net: at a discounted price on Windowo
The revolutionary Scenica, the first and only roll-up lateral insect screen in the world without floor track, celebrates its first 10 years.
A decade of continuous evolution and investment in Research and Development has led Scenica to offer today a complete range of solutions and patents that
eliminate barriers
and enhance functionality and ease of use. Without sacrificing the quality and reliability of an exquisitely Made in Italy product.
Are you interested in Scenica,
Miniscenica
or
Picoscenica
thin mosquito net with minimal footprint? If you have any doubts you can read our
guide to Scenica mosquito nets
.