lyscreen Bettio Flash 1 Shutter Side 31 Magnet with Windproof Side Guide
Flash is a mosquito net made ​​of fiber-glass,
magnetic
closure and represents the response BETTIO to the problems of space.
At its minimum overall dimensions, must be added the ease of assembly: in fact its heads are equipped with
springs
which support the box when it is placed in filarci for the guides, without the need to secure it.
Flash is reversible, so you can decide during assembly where to place the box (left or right compartment), without the need for specific ficarlo when ordering.
Flash is fitted with a guide windproof, the international patent BETTIO to keep the network inside the guides without the need for tape and buttons.
On Windowo you can also buy the version of Flash 2 Shutters (for bigger basic sizes).
Technical features: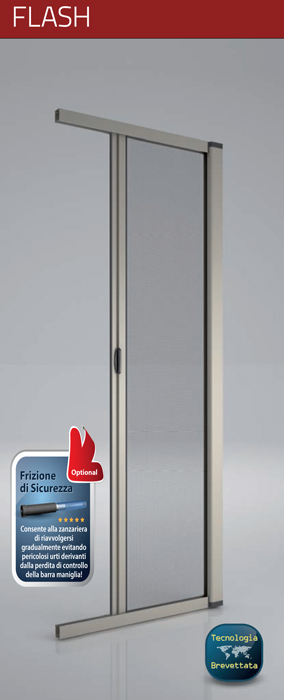 Model: Flash 1 Shutter;
Overall dimensions: 31mm (46mm with Handle external);
Settings: using tested up to +4 mm (W 0, H +4);
Recommended application: door;
Dimensions (mm): min 500x700 (750 with clutch), max 1580 x 2450;
Closure: magnet;
Finish network: no ribbon and buttons;
Optional: clutch;
Aluminum color: choose between Silver (painted silver), Bronze (painted bronze), Creamy White (Ral 9001), Black (opaque electro ELOX 2000), White (glossy white RAL 9010), Ivory (ivory polished Ral 1013), Green (green matt Ral 6005), Brown (brown matt Ral 8017), Cherry Wood, Walnut, Pine, Douglas, Iroko, Light Renolit and Dark Renolit. Estimates on request for other colors.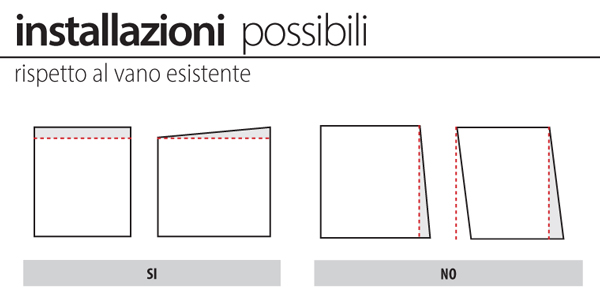 Mosquito nets side traditional Bettio: behind closed doors only to insects
Lovers of traditional mosquito nets that want to protect against insects will find their home in these types of models anything that might satisfy them.
The mosquito nets side Bettio are an excellent solution for verandas and French windows, without the need to bend down to open or close them.
Easy to open
A special carrying handle, inserted in the bar handle and easy to handle, allows the opening and closing of the mosquito net from the outside with the greatest ease and simplicity, without effort and without forcing the profile.
Binary sealing
They are equipped with a floor rail that increases the tightness of the mosquito net in the presence of wind, both during its movement, both while it is open.
For the purchase of mosquito nets without enclosing section you'll want to view the models of mosquito nets Bettio Scenic, always on sale on Windowo.
Safety clutch
The safety clutch allows the mosquito to rewind gradually avoiding dangerous impacts of the loss of control of the mesh bar.
The clutch is optional but becomes compulsory on mosquito nets vertical height greater than 2 meters.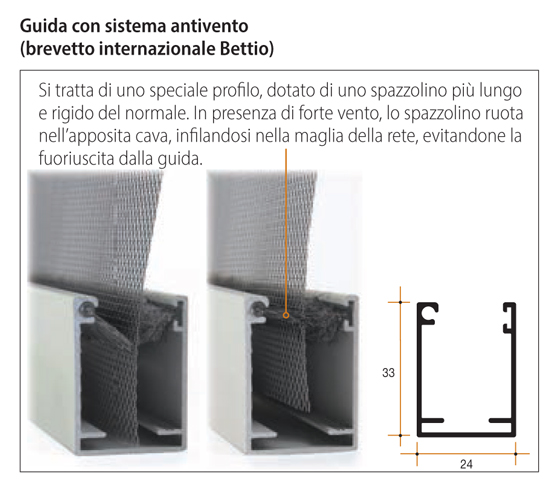 The importance of the mosquito net
Why install mosquito nets in the environments in which we live? To protect yourself from mosquitoes, what else? In fact, the response seems very low cost. But to linger a bit 'on the application you can also find plenty of other good reasons as to why protect the environments in which we live with mosquito nets.
For example, thanks to mosquito nets, while pesky mosquitoes if they are left out, we can keep the windows wide open to regenerate the air inside our house: a good air circulation ensures well-being, a good sleep, a high degree of concentration and yield. Do you think that the air inside your home or office can be up to 5 times more polluted than the air outdoors.
We spend 90% of our time indoors, at home, at school or at work, breathe about 22,000 times every 24 hours.
Let's not forget the importance of light: the sun is light and light is a "super nutrient." The sun acts as a natural antidepressant: what could be better for our mood that open the windows and let the light (and only you) enter into our homes?
Moreover, thanks to mosquito nets remain outside our house also flies, bugs, spiders, and certainly many other insects that, without sting, there surely rejoice.
And yet: the mosquito net can save power by limiting the use of facilities for the treatment of air, such as air conditioners.
An advantage for the environment and for human health, but consequently also an economic advantage.
Sustainability: the mosquito nets Bettio are 90% recyclable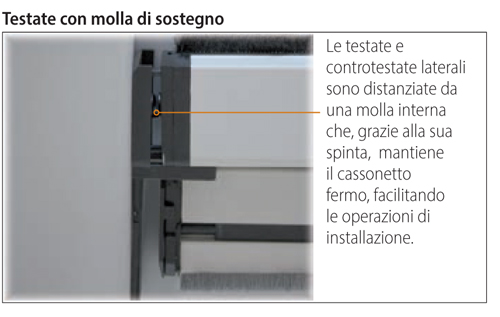 At a time when talk of "green economy" seems to have become almost a fad, Bettio carefully evaluates the environmental impact of its products.
This vision drives the company to design, produce and offer products created with high quality materials, durable and which, for their end use, require very minimal maintenance.
Corporate ethics fall also the continuing effort to create a safe working environment and a willingness to comply with the standards. In this sense, then a material such as aluminum, 100% recyclable, fits perfectly with the philosophy of "green" of the company, as well as the recycling of the almost totality of production waste.
Finally, the entire production process is highly automated and takes place aiming to energy saving.
Why choose Bettio? Beautiful, robust and quality!
Thanks to the meeting between care planning, excellent materials and strict production processes, mosquito nets Bettio are reliable and durable products, which will accompany you for many summers!
Security Guarantee:
All products have Bettio certification CE marked.
Warranty and testing
every product is equipped with an identification label which shows all the features and the CE.
Packaging and shipping:
Each screen can be protected by a casing of shrink film. For shipments with carriers, the product is also included in sturdy cardboard boxes.
Patented systems:
some of the many international patents Bettio are definitely the flagship of the company.
Easy installation:
the mosquito nets Bettio are also designed to be easy to install, easily adjustable and adaptable to many different types of rooms, also irregular. All operations
assembly are also guided by the relevant installation manuals combined with each mosquito net.