Somfy motors and automations: online sale at special prices
Founded in 1969 in Cluses, France,
Somfy
is the world reference company in the design, production and marketing of motors and
automatic control systems
for the opening and closing of all residential and commercial applications.
Today
Somfy is an international group made up of 7,600 collaborators from all continents. Present in 60 countries around the world, internationality is a fundamental value for the Somfy company.
Somfy's goal is to
integrate automation in construction
through the study of solutions that are easy to install and that guarantee high added value over time.
Somfy is active in the design, development, production and marketing of innovative products and solutions that increase the level of well-being and safety of people in their homes and wherever there is attention to comfort, energy saving and a better quality of life.
Somfy development model
Four fundamental aspects on which Somfy has set up its business:
Anticipation : Somfy is attentive to the present and future needs of end consumers to respond with innovative but easy to use products;
Growth : the innovation and sustainable development strategy is pursued through a balance between internal and external growth;
Independence : Somfy has direct control of all the fundamental aspects of its business: production, distribution, management of financial resources.
Local and international partnerships : interaction with customers, markets and the different cultures of the countries in which it operates is the engine of growth, in a balance between global and local approach.
Somfy's values
Somfy has identified some reference values that have always guided every choice:
Internationality : an always open vision, mutual enrichment from differences, respect for the different cultural identities of the different nations in which it operates are the three cornerstones adopted by Somfy for the conquest of the global market;
Performance : quality is considered an essential guarantee for the recognition of the products and the brand towards end consumers;
Responsibility : Somfy promotes individual initiative and responsibility in achieving common goals.
Somfy Italia: Italian automation
The Italian branch of the group has been present on
the national automation market
since 1978, becoming its leader.
Somfy has been present in Italy
since 1978 with its own branch and distributes the products through a sales network made up of direct technical sales officers supported in their activities by the internal sales service and the technical customer assistance service.
Somfy Italia, in addition to covering the commercial area, is responsible for managing the logistics center, offering pre and post sales technical assistance, developing marketing activities aimed at increasing market growth through the development of knowledge in end consumers of the advantages deriving from solutions offered.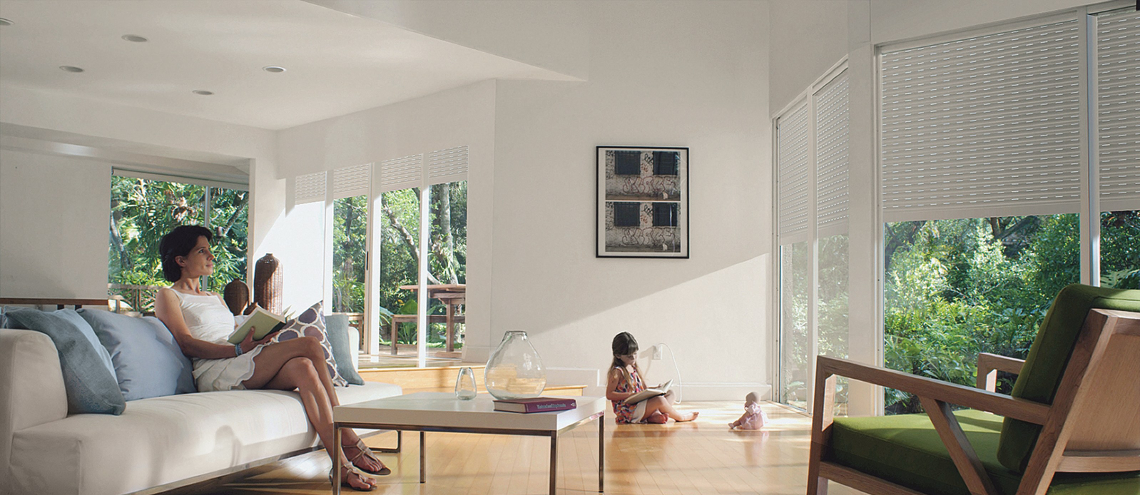 Somfy motors for roller shutters, blinds, curtains and smart home solutions
The roots start from the
automation of awnings
,
motors for shutters
, internal blinds,
automation for gates
and garage doors to arrive today at the integrated control of all the functions of the house, including
home burglar
alarm systems and other products. professional such as
video surveillance cameras
.
Somfy roller shutter motor
solutions and
home automation
proposals allow you to create innovative projects both in the residential and service sectors. Important references all over the world testify to the contribution of this company to the projects of the most important and innovative architects of international fame.
Somfy Italia's and international goal is to raise people's quality of life everywhere.
Somfy home automation innovations
Somfy domotica
designs and manufactures automation solutions that guarantee a better quality of life and transform the home into a place of well-being, safety and privacy. In fact, the house requires intelligent solutions, capable of evolving over time, in an easy and immediate way, together with the needs of those who live in it.
For this Somfy proposes a new way of living, current also for the next generations, in the deep search of the living well-being. One of the primary objectives is precisely to develop
smart home
solutions capable of making a significant contribution to the
energy efficiency of a
home.
If you want to know more about the innovations of this company, we recommend that you read the article on our blog dedicated to
Somfy radio technologies
.

Somfy training school
The
Somfy training school
is structured in modules: product presentation, installation and assembly, diagnostics and repair, commercial benefits and purchase reasons. It is a training offer differentiated by target, by market (residential and tertiary) and by topic.
Somfy low prices online on Windowo: discover the best offers
Are you looking
for Somfy motors at a discounted price
? Discover the best Somfy brand products for sale online in the Windowo shop.
Find low
Somfy prices
and advantageous offers on motors and controls for roller shutters, blinds, awnings, track awnings, gates and garage doors,
smart home
solutions for alarms, cameras and much more.
Are you looking for a
Somfy motor
? What are you waiting for? Windowo
Somfy roller shutter motors
are the solution for your needs.
Among the products of this company we recommend that you take a look at the
Somfy TaHoma Switch
, the intelligent control for connecting devices for the smart home.
Finally, if your primary goal is to secure your home, I recommend that you take a look at
Somfy Home Alarm Plus
. This system is able to create a
security perimeter
through
IntelliTAG
motion sensors.