Somfy Connexoon Window RTS: Wi-Fi control unit to remotely control home automation
Somfy Connexoon remotely control roller shutters, blinds, interior blinds and lighting
Turn your windows into a connected environment! Somfy Connexoon Window RTS allows you to remotely control all the equipment in your home automation via Wi-Fi internet:
Shutters;
Shutters;
Venetian blinds;
Internal screens;
Indoor curtains;
Home lighting / lights.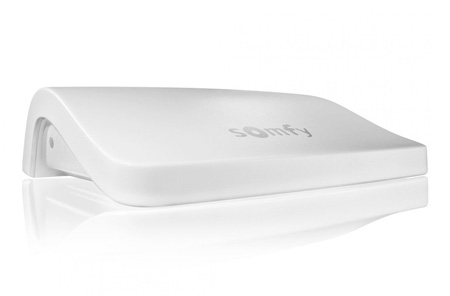 How does CONNEXOON® WINDOW RTS work? Wi-Fi control home automation
What is
CONNEXOON® WINDOW RTS
? This device allows you to centralize, control and program shutters, interior blinds, Venetian blinds, shutters, lighting, and more with RTS technology, when connected to an internet router. You can access through the Connexoon Window RTS App directly on your Smartphone.
So you just need a Smartphone. You can use the App and remotely control your home, whether you are at work or on vacation. For example. Do you do bad in the office? You can close the interior curtains, curtains and turn on the light.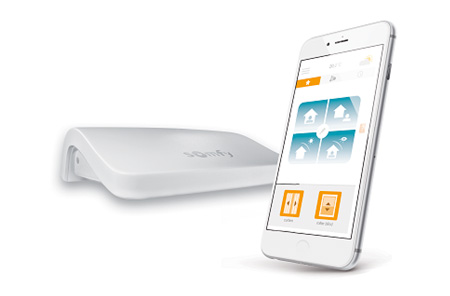 Useful functions of the Somfy Connexoon Window RTS
Centralization : open or close all your equipment with a single press wherever you are.
Ambience Replay : Repeat the scenarios you have programmed, for example an "Evening Atmosphere" that closes the curtains and turns on the lights in the living room.
Timer : program the curtains, shutters, etc to open or close them at the days and times of your choice and activate the simulation of presence.
4 Modes to choose from
You can choose between 4 programs to perform repetitive and daily operations.
At home : with just one touch, when you get home, your blinds, your shutters and curtains open, some selected lights turn on. At the same time, the presence simulation is deactivated;
Remote : when you go to work, close your Somfy rts window operators with a click and activate the presence simulation;
Sun protection : when the sun is shining, you can close the shutters or shutters facing south (even only halfway) with a single gesture on your Smartphone;
Privacy : Close your shutters and curtains in your living room to protect yourself from outside gaze and enjoy complete privacy.
What are the advantages of the Somfy Connexoon Wi-Fi central?
Here are the main advantages of using a Wi-Fi control unit at home to control curtains, lights, shutters.
You can choose between 4 predefined programs : remote - at home - sun protection - privacy;
Scenarios - The scenarios function allows you to save your favorite environments and modify them with a single click, as many times as you want;
Product control - You can control the shutters, internal screens, curtains, lighting, etc;
Timer - The timer allows you to schedule actions on your device at a particular time;
Modern control panel - A dashboard with your history, a messaging system for available updates and new features, Geolocation of your favorite environments.
What is included in the Somfy Connexoon Window RTS control panel?
Connexoon RTS unit;
USB cable;
Network adapter;
Ethernet cable;
2 Quick installation guides (installer and end user);
Legal notices.
Somfy Connexoon Window RTS compatibility
All products with Radio RTS technology;
App available for Android and IOS devices.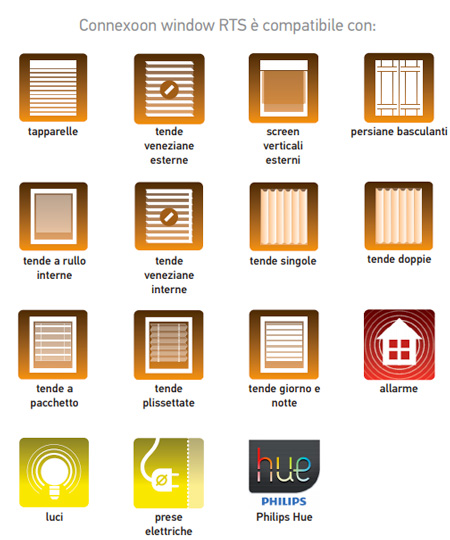 Technical features: specific Connexoon Somfy central Wi-Fi
Model : Somfy Connexoon Window RTS;
Radio frequency : 433.42 MHz;
Radio range : 200 m in open field or 20 m through 2 reinforced concrete walls;
Channels : 1;
Battery Type : AAA;
Battery voltage : 1.5V;
Height : 151 mm;
Width : 47 mm;
Depth : 18 mm.
Somfy Connexoon for sale at a discounted price in the online shop
Somfy Connexoon helps you transform your home into a smart home. Somfy products are in fact intelligent and use the latest technologies to:
improve the internal home environment;
save time and energy when returning from daily work;
increase energy and environmental savings.
Somfy Connexoon is for sale online on Windowo at a discounted price. If you want to read the
Connexoon Somfy instructions
, you can find them in the product sheet.