Aprimatic Arm Operator ST 450N 230V Stroke 180-300mm with Fixing Accessories
Arm operator for domes, vertical sun blinds, jalousie windows, outward-opening windows.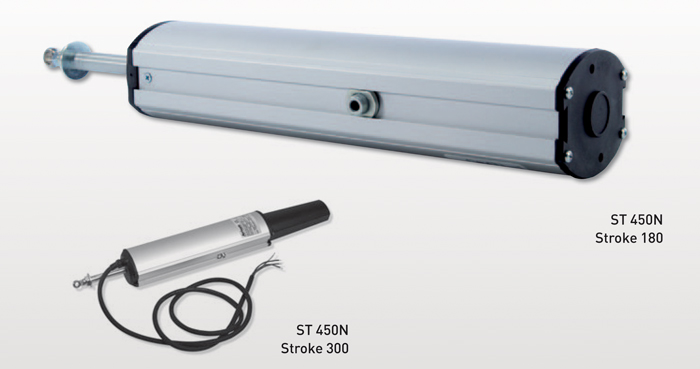 TECHNICAL DATA
:
POWER SUPPLY 230 Vac - 50 Hz
ABSORBED POWER 150 W
ABSORBED CURRENT 0.70 A
MAX. THRUST AND TRACTION FORCE 450 N
MAX. STROKES mm 180 - 300 (your choice);
AUTOMATIC LIMIT STOP YES
PARALLEL CONNECTION YES
OVERLOAD PROTECTION YES
CAPACITOR 1 for 5 µF
BUILT-IN RELAY YES
PROTECTION DEGREE IP55 (indoor use).
Innovative magnetic limit stop detection system
without moving mechanical parts: it further increases product reliability in any working condition.
Product dimensions are designed to be as compact as possible
to ensure an installation that blends with the rest of the building.
Silent operation and speed
are the two strengths of the ST 450N operator.
Can be connected in parallel
thanks to the relay built into the card.
Electronic operator
in aluminium casing with straight-arm linear movement.
230 Vac power supply with overload protection.
vailable accessory: Kit for limit stop adjustment (​sold separately).
Features a reed switch system without moving mechanical parts.
Brackets and supports are supplied for the required application.