Aprimatic: automations and actuators for windows and doors
Founded in 1985, the
Aprimatic
company quickly established itself on the market thanks to the offer of highly technological solutions and the wide range of
products capable of automatically moving swing and sliding gates, garage doors and barriers
.
In 1994, the partnership with Giesse, a leading company in the sector of manual opening of aluminum frames, and the acquisition of Unimotor, a company specializing in the production of
window motors
automation, allowed Aprimatic to further expand its range of products. Today Aprimatic is a complete catalog of automatic solutions able to satisfy the most varied building opening and closing needs.
Aprimatic has become, in the space of a few years, one of the main international companies in the production of automatisms, realizing about 50% of the turnover abroad, where an efficient commercial network is active, made up of branches, distributors and installers.
Discover the
Aprimatic chain actuators
sale online on Windowo.
Aprimatic window motors known all over the world
Aprimatic operates through its own
branches in the main European markets
(Spain, France, England) and in China. A
network of official distributors
also allows us to serve the countries of Northern and Eastern Europe, the Middle East, Asia and Oceania. In Italy, the company can count on an important commercial network made up of professional installers capable of extensively covering the entire national territory.
Precise ideas, innovation, dedication, perseverance, but above all passion for a
constantly evolving
activity, are the guidelines of Aprimatic.
A further challenge for Aprimatic today is the expansion of the
home automation
concept, which will project it towards a new market in rapid and great expansion.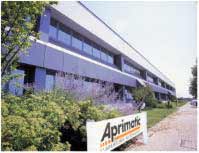 Aprimatic is part of the Urmet group
During 2003 Aprimatic became part of
the Urmet Group
, one of the leading players in the international telecommunications, home automation and safety of people and environment market. The Group is made up of more than 30 companies of which Urmet Tlc Spa is the leader in the Telecommunications sector and Urmet Domus Spa in the Home Automation and Security sectors.
In recent years, the Urmet Group has dedicated many resources to the development of building automation, proposing integrated solutions for access control and communication systems within the home, thus making its products integrable for concrete applications of home and building automation.
Aprimatic motors prices on offer and online sale on Windowo
Are you looking for an Aprimatic actuator? Discover the
best Aprimatic motors
for sale at a discounted price in the Windowo online shop.