Wall Safe Kombiter Series 57 Juwel Various Sizes
Safe in the version with a "3 buttons" combination.
Door springs out when lock is open.
Wall safe
The wall safes are the ideal solution for people, who want a hidden safe.
This typology of safe is installed in the wall. The walls have to have at least a thickness of 10 cm more than the depth of the safe.
Safe measures of your choice
among those proposed (width, height, etc.). Select the item based on the size you are interested in (see table below).
Reinforced construction:
Laser-cut steel door, 8mm (total thickness 55mm) Full-light opening, full-height hinge. 4 mm thickness, U-shaped, antismashing rabbets.Chromium-plated, independent, turning bolts, Ø25 mm, mounted on double support 4+4 mm. Armoured locks protected by a reinforcement-plate in manganese-steel material. Strong robotized weldings. Internal deep-drawn cover, it can be dismantled just when lock is open. 2 mm body welded by continual wire. 3 mm of back-wall.
Closing system:
"3 buttons" combination, each one with 26 letters + 4 digits (27.000 effective variations). Buttons rotate starting from any position and to any direction. Once the combination is inserted, by rotating clockwise the button of control, the lock opens. In case of mistake, it is possible to set at zero the combination if door is open.
Safe measures:
You can see in the table below which item (blue column) identifies the measures that fit your requirements.
Select the correct item in the variant to know immediately the purchase price.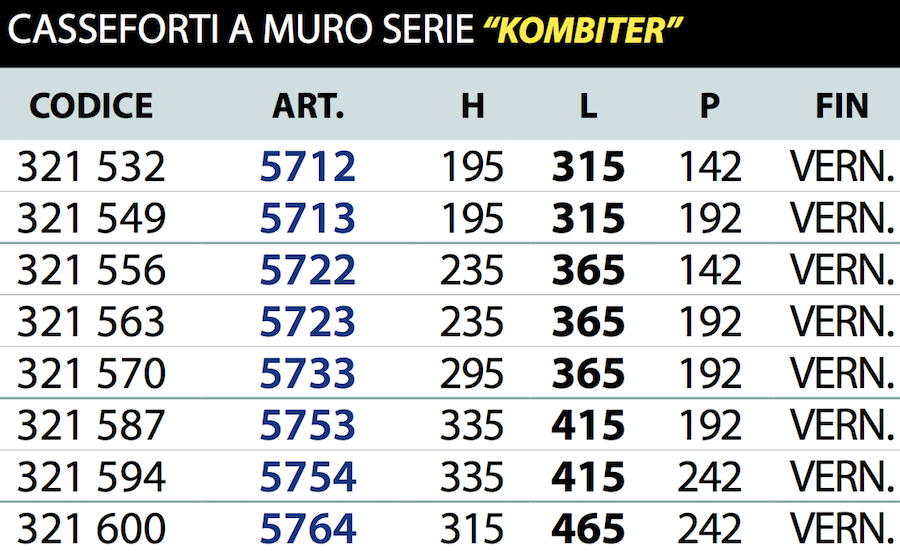 External dimensions:
Height (mm): H;
Width (mm): L;
Depth (mm): P.
Juwel: safes and high security locks since 1922
Since 1922, in the province of Milan, Juwel is one of the most important manufacturers of safes from either wall or furniture.
Many Juwel products have obtained prestigious certifications recognized at European level. Worldwide Juwel brand is synonymous with prestige, professionalism, high quality and safety.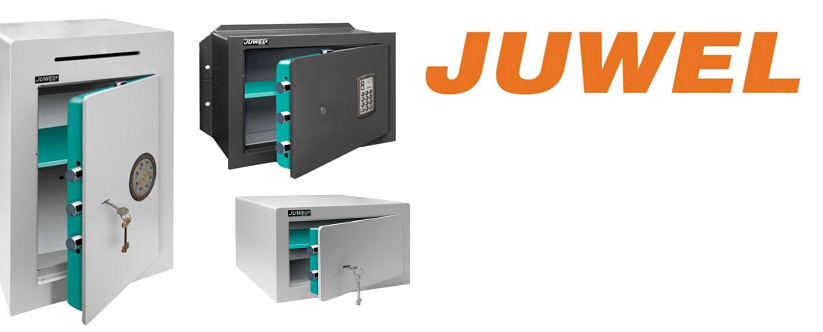 All Juwel brand items are entirely Made-in-Italy.