Safe Kombifrank Series 49 Juwel by Embed Various Sizes
Safe with 2-coaxial- wheels combination lock.
Wall safe
The wall safes are the ideal solution for people, who want a hidden safe.
This typology of safe is installed in the wall. The walls have to have at least a thickness of 10 cm more than the depth of the safe.
Measures the safe choice
among those proposed (width, height, etc.). Select the item based on the size you are interested in (see table below).
BASIC CONSTRUCTION
Laser-cut steel-door, 8 mm (total thickness 42mm) Full-light opening ; full-height hinge. Two chromium-plated bolts, Ø 20, mounted on double support. Horizontal, U-shaped, antismashing rabbets (4 mm thickness). Strong robotized weldings. 2 mm body welded by continual wire.
CLOSING SYSTEM
2-coaxial- wheels combination lock, antimanipulation. 2 Numers; 12.000 possible variations; change by key. The combination can be set at zero if door is open.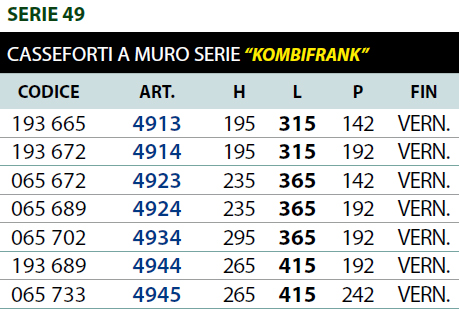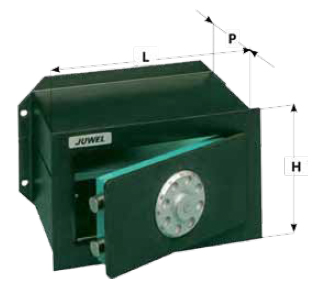 External dimensions:
Height (mm): H;
Width (mm): L;
Depth (mm): P.
Juwel: safes and high security locks since 1922
Since 1922, in the province of Milan, Juwel is one of the most important manufacturers of safes from either wall or furniture.
Many Juwel products have obtained prestigious certifications recognized at European level. Worldwide Juwel brand is synonymous with prestige, professionalism, high quality and safety.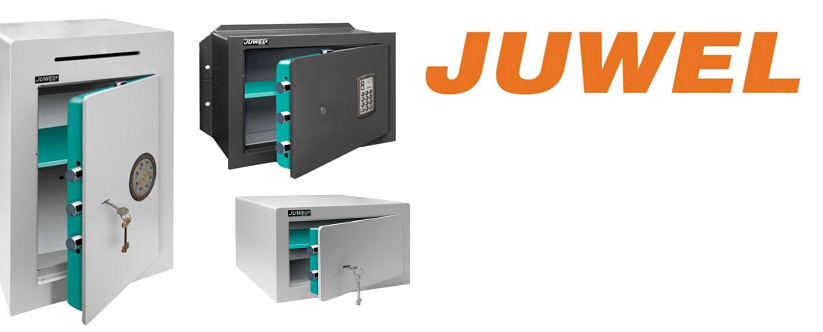 All in Juwel brand items are entirely Italian production.