Mosquito Net Quadra Side 1 Horizontal Sliding Door Spring with Magnetic Closure Zanzar Sistem
Quadra Lateral is a spring winding mosquito net with horizontal scrolling and magnetic closure.
Suitable for doors, the Quadra fly Lateral can be made to a 'door or two doors; This is version 1 Anta.
On Windowo you can also buy the Quadra Side 2 Ante (for basic measurements greater than 1400 mm).
Technical features:
Model: Quadra Side;
Version: 1 door;
Online: Enveloping with Button;
Winding: Lateral;
Box dimensions: 50 mm;
Recommended application: Door-Window;
Network Finish: Standard color (also available with the network of white-black bands, find out more contact us);
Aluminum staining: a choice between silver (silver ox), Bronze (painted bronze), Black (electro matte Ral 9005), White (glossy white RAL 9010), Ivory (RAL 1013 ivory gloss), Verde (green matte Ral 6005), brown (brown matte Ral 8017), cherry (cherry sublimated 317-70R) and walnut (walnut 102-70R sublimated). We shall also be made estimates on demand for other colors.
The size of the Quadra must be entered in mm clearly base and height, specifying whether the measure is over or compartment:
OVER SIZE: the flyscreen supplied with the given sizes.
MEASURE SHAFT: the flyscreen will be supplied 3mm less than the box side.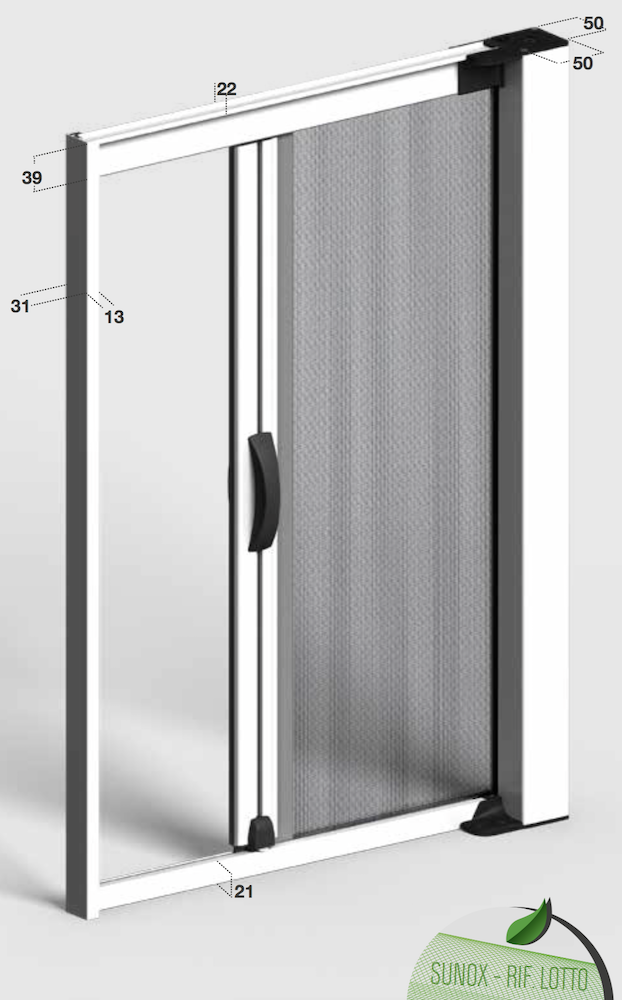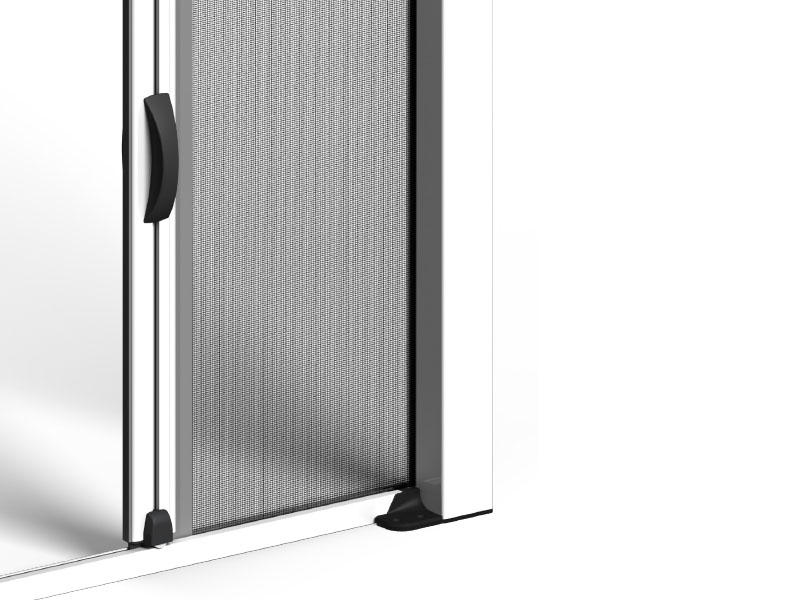 Safety clutch
The safety clutch allows the rewinding mosquito gradually avoiding dangerous impacts arising from the loss of control of the mesh bar.
Telescopic guide (optional sold separately according to customer request)
With telescopic slide adjustment and the mosquito net installation are also perfect in strong irregularities of the masonry.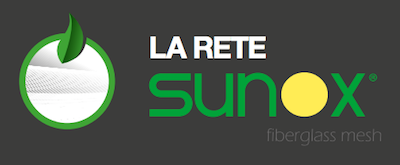 Antibacterial network Sunox to virucidal and bactericidal action
In the presence of light, moisture and oxygen generates a strong oxidizing agent able to transform the organic substances into carbon dioxide and water.
We protect children
SAFETY UNI EN 13120 - EN 16433 - EN 16434
For the safety of children is recommended to lock the switching device to the locking system designed to maintain tension on the mechanism.
EC Declaration of Conformity
The CE marking is mandatory and is the system to which all manufacturers must comply in order to sell their product into the European Union (downloadable from "My Documents").
Zanzar Sistem
Zanzar Sistem produces mosquito systems in line with the most advanced technology in the industry.
The company was founded in 1985 and acquired over time a leading role in the market thanks to the constant search for innovative solutions.
Quality, reliability and innovation
These are the objectives of Zanzar sistem, leading reality at international level for the production of systems for mosquito nets.
A winning project started five years ago with the aim of enriching the windows and doors market of new integrated solutions for the mosquito nets, improving the quality of life in our homes.
Environmental certification
Zanzar Sistem has always paid attention to the environment and has adopted an environmental management system, tool for identifying, managing and improving the environmental problems associated with the company's activities and to prevent and deal with environmental emergencies.
Mosquito nets Made-in-Italy
Zanzar Sistem relies on a modern logistics-industrial center of about 40,000 square meters, five factories, an established network of manufacturers throughout Italy and more than 1,500 customers internationally.
A strong entrepreneurial structure able to establish itself within the target market constantly pursuing the satisfaction of its customers.