Mustad TD CUT PZ Panelvit for Wood Frames Chromiting Screw Box Ø4mm
TD Reduced Head Anti-Split CUT Tip - TSP Countersunk Head - PZ Recess
Lubricated partially threaded screw with reduced head and anti-split CUT tip recommended for fastening tilt and turn hardware systems made by the most common European manufacturers.
CHROMITING®
White, iridescent. Salt spray corrosion resistance: > 240 h (appearance of red rust) conforming to grade 4 of EN 1670. RoHS compatible.
Very high corrosion resistance; suitable for outdoor use, in very severe conditions.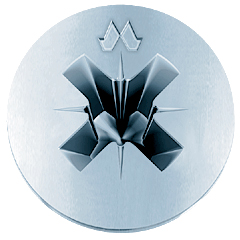 ---
Screw diameter (mm):
Ø 4 mm.
PZ Recess:
Z 2.
Mustad Type:
382A.
Thread (mm):
20 mm.
Length (mm) / number of screws in the package:
30 mm / 1000 pieces or 35 mm / 1000 pieces (your choice).
---
The head (Ø 7 mm) adapts perfectly to the countersinking
present on the hardware elements to be fixed.
The smooth part of the shank does not interfere with the system movement
even in case of inclined screwing.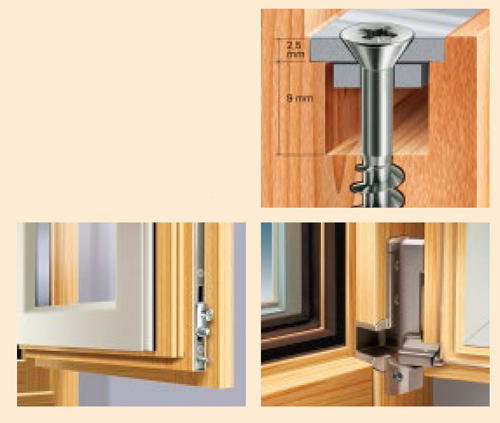 The thread (Ø 4 mm) guarantees a pull-out strength much higher
than that of common Ø 3.5 mm screws.
The anti-split CUT tip
is ideal for fastening near the frame edges (angular movements, scissor supports, hinges), where traditional screws could cause splitting and compromise the fastening and satisfactory operation of the system.
CASE HARDENING TREATMENT
This confers two properties to the screw:
- very hard surface for biting into the fibres of the hardest wood;
- tough, elastic core, needed to avoid breakage of screws.
CHROMITING® PROTECTIVE TREATMENT
This iridescent white treatment guarantees a much better rust protection than normal galvanisation treatments.
LUBRICATION
Mustad antifriction treatment for reducing fastening force by up to 50%.
COMMERCIAL BOX
Drawer-like opening, can be closed again after use;
Possibility of picking content from stacked boxes;
All boxes are the same width for tidier storage;
High crushing strength.
MUSTAD: A TRADEMARK OF QUALITY AND SAFETY
All Mustad screws are manufactured in Italy and bear the Company trademark on the head to ensure their origin.
High quality standards maintained constant over time guarantee screws suitable for automatic or critical assembly.