Linus Yale Smart Lock - Remote Keyless Entry
Linus Yale Smart Lock
allows you to enter your home without a key and manage access remotely.
The front door evolves with Linus Yale Smart Lock, the keyless lock designed for a simple and safe life. This
Yale smart lock
combines elegant design with advanced technologies.
The purpose of Linus Smart Lock is to be a
smart lock
that allows you to lock and unlock the door wherever you are.
Enter without a key, automatically lock and unlock the door, create virtual keys for guests and check if the door is closed.
Choose the matte black or silver finish
and immediately make your home modern, elegant and smart.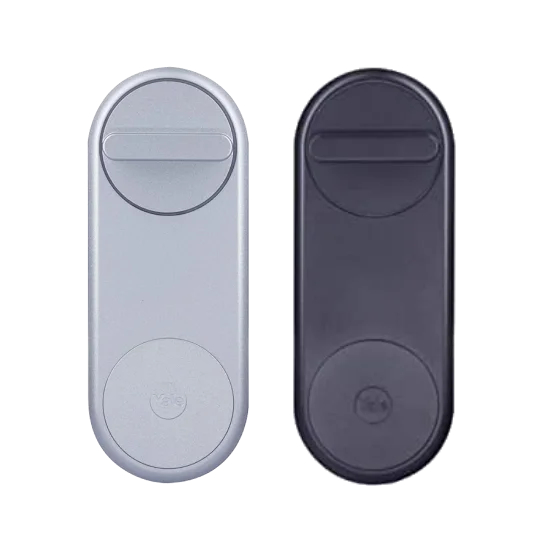 The result you can get is extraordinary:
Keyless smart lock opening and closing;
Remote control of its functions (with Yale Connect Wi-Fi Bridge, sold separately);
Find out when the door is open or closed (with DoorSense technology).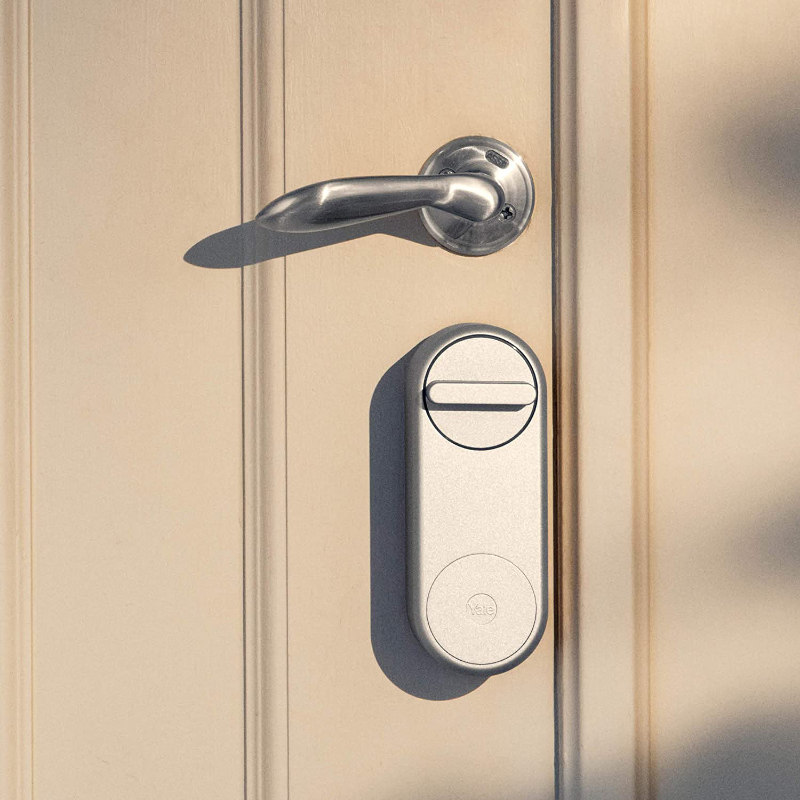 How does he do it? Thanks to the most modern technologies:
Voice assistants: compatible with the main ones;
GeoFencing: automatically unlock the door when you are nearby;
Doorsense: receive an alert when your door is not closed via the App;
Security: with biometric verification and "Hide access codes" within the App;
Lost phone protection: immediately disable the Yale Access app and all virtual keys when you want;
Encryption and Authentication: Bank-grade AES and TLS encryption, BLE technology and 2-factor authentication;
Remote access and monitoring: with the Yale Access app and the Yale Connect Wi-Fi bridge;
Activity feed and notification: see who arrives and when with the activity feed;
Installation in 3 minutes: with compatible European cylinder.
This amazing product has been awarded for its intelligent design and best-in-class materials at the prestigious
Red Dot Awards
, European Product Design Awards and CES Las Vegas Ambient Awards in 2020.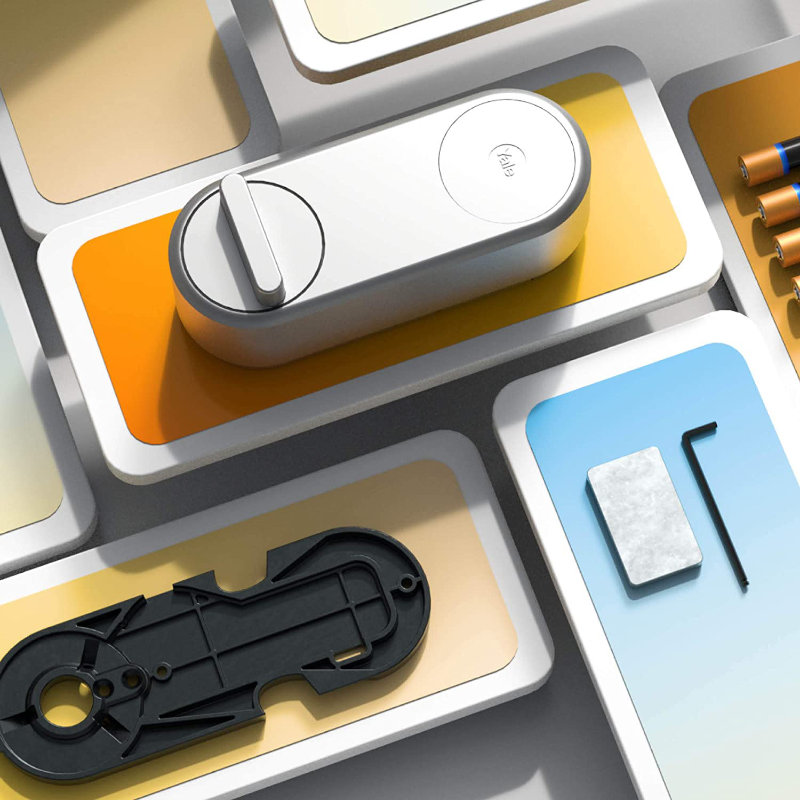 What are the advantages of the Yale smart lock?
Linus Yale Smart Lock is an
updated next generation device
for the smart home and applies to almost any entrance door.
Connect the Linus Smart Lock with leading smart home systems, voice assistants and the best hosting platforms for lock control and easy access management.
Enjoy peace of mind and protection from the latest smart lock, the result of Yale's 180 years of security expertise.
Automatic locking and unlocking
Activate Automatic Unlocking thanks to geolocation when you are near the door, without worrying about looking for the keys. And if you forget to lock the door, check and manage the lock through the Yale Access app.
Are you expecting guests? Send a virtual key
Send keys to friends, family, or people you trust, all from the Yale Access app. Manage and schedule access at any time.
All control via smartphone
Turn your smartphone or Apple Watch into your key. The Linus® Smart Lock allows you to lock and unlock your door wherever you are, with the Yale Access app (requires the Yale Connect Wi-Fi Bridge for remote functionality).
Safe and reliable smart lock
Your safety is the top priority. The Yale Access account is protected by 2-factor authentication, so users' identity will be verified with an email or phone number.
Quick installation
The Linus Smart Lock is easy to install on the existing cylinder from the inside of the front door and allows you to reuse the original keys. If the cylinder is compatible, the installation time is less than 3 minutes. If you are unsure whether it is possible to install Linus on your current cylinder you can contact us.
Yale Access App
The Yale Access app works with a wide range of smart products. Yale smart alarms are automatically disabled when the Yale smart lock is unlocked through the Yale Access system.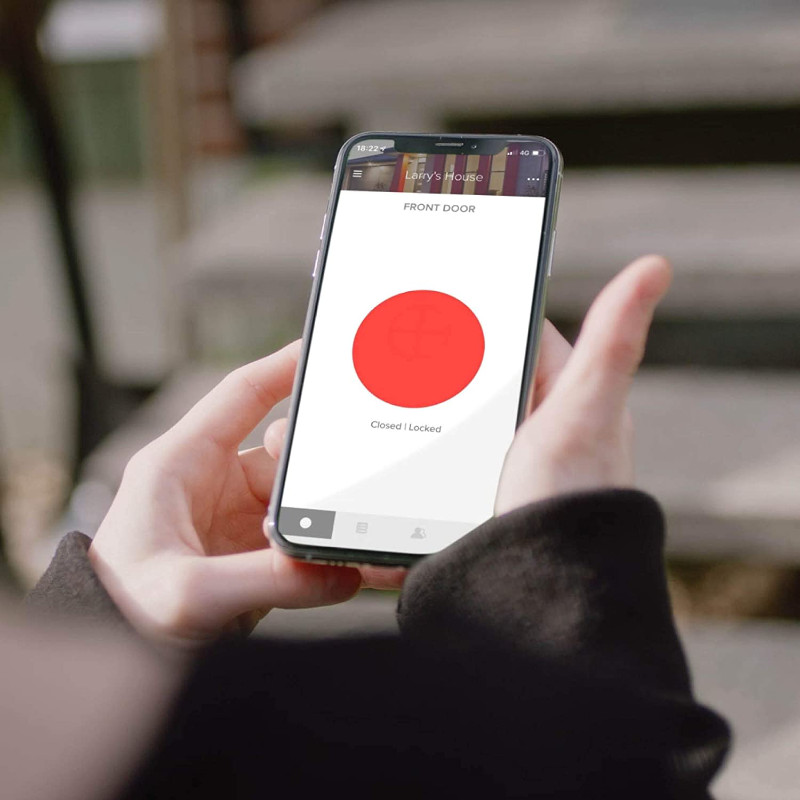 Linus Yale Smart Lock technical features
Compatible with a wide range of doors (if you have any doubts contact us);
Requires free Yale Access App for iOS and Android.
Communication frequency between Linus and accessories: Bluetooth version: 4.2 - 2.4GHz;
Technology between Linus and smartphone: Bluetooth and Wi-Fi (when used with Connect Wi-Fi Bridge);
Security with two-factor protection;
Encryption with Bluetooth Low Energy (BLE) technology, 128-bit AES encryption and TLS, to guarantee a degree of security at the highest levels;
Dimensions: width 58mm, depth 58mm and length 150mm.
Weight: 623g (including batteries)
Batteries: 4xAA (alkaline recommended).
What is included in the Yale Smart Lock Linus package?
Smart Lock Linus x1;
Mounting plate x1;
DoorSense ™ Magnet x1;
Allen key x1;
AA batteries x4;
Quick Guide x1.
Optional sold separately:
Yale Connect Wi-Fi Bridge (sold separately) enables voice assistant functionality and remote control of Smart Lock directly from the phone;
With the keypad it is possible to provide unique codes for guests and family members giving them another access alternative.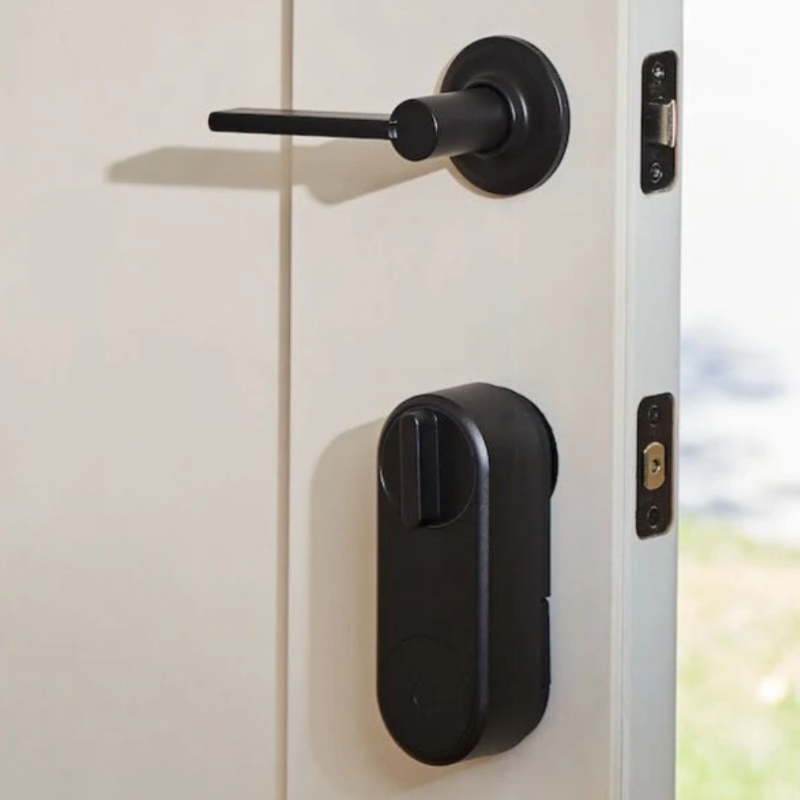 How do I install Yale Smart Lock Linus?
First download the Yale application, scan the QR code located behind the battery door and follow the guided procedure. It's all very simple, it will be the smart lock itself that tells you to position it at the start and end of the stroke for calibration. After a few steps it is ready.
The physical key was left inside, because it is the one that she will turn for you, and it is important to check the compatibility with the cylinder of your lock before purchasing. It must be one of those that allow you to open and close even when the key on the other side is inserted, so that in an emergency, whether you are without your smartphone or for any other problem, you can also open from the outside using the old physical key .
The opening of the lock takes place via Bluetooth, so you will have to be within its range, but if you want you can also do it remotely. Just add the Connect WiFi Bridge which will bridge the WiFi.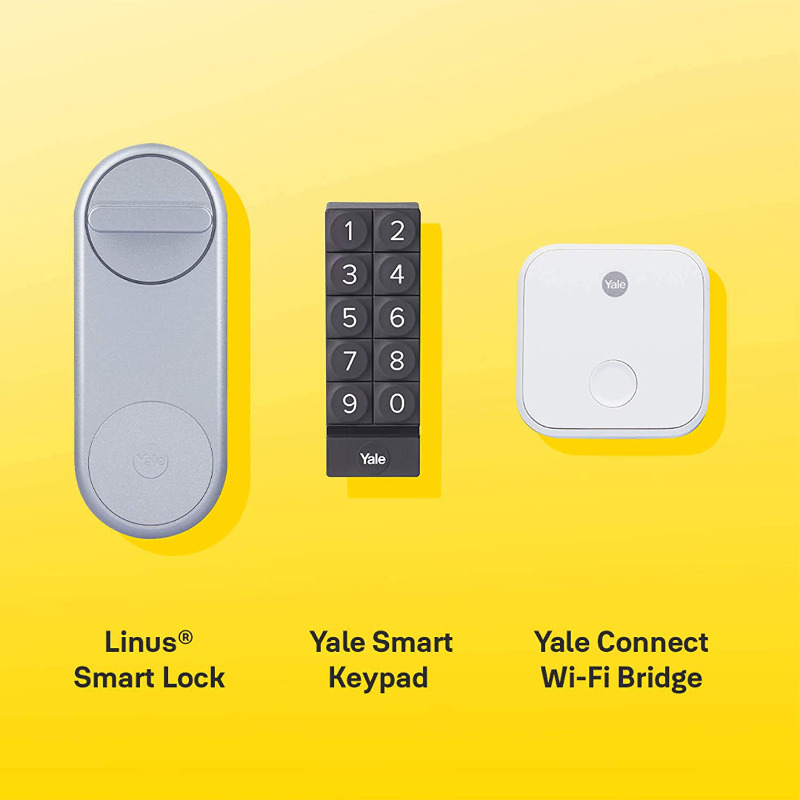 Why choose a Yale smart lock?
Many objects inside our homes are now smart but despite this the connected locks that can be operated remotely still generate mistrust. I can assure you that, once you have taken the step, you will wonder why you have not done it before.
You no longer have to carry the keys with you and you can invite whoever you want by sharing a virtual key remotely. This represents an extra security compared to having to lend the physical keys (which can always be duplicated), so at any time we can decide to deactivate the keys sent.
From the application you can set which notifications to receive, for example that a certain user opens or closes it. There are also selectable smart functions, such as geolocation which will open and close the lock every time you approach or leave the house.
Speaking of the
accessories for Linus Smart Lock
, which can be purchased separately on Windowo, the most useful are the cylinder (if you can't find a compatible one), the bridge to connect the lock to WiFi and the numeric keypad to open the lock even without a smartphone or for give the PIN to whoever you want.