Potent locks and safes since 1978
Potent
produces
locks
, cylinders, safes, padlocks and peepholes in Turin. Potent locks are
made in Italy and certified
.
Potent
security locks
and safes has been operating in the passive protection sector since 1978. For more than 40 years Potent has been offering high quality products and components, designed to meet modern technological standards.
Potent has developed numerous lines of products and accessories dedicated to wooden, armored and overhead doors, shutters and gates, safes, up to offering a complete range of locks, cylinders, padlocks and locking devices.
Potent locks for sale online at the best prices
With Windowo you can buy
Potent locks, cylinders, safes and much more at the best prices
. You will receive your Potent lock at home in a few simple clicks.
The procedure is quick and easy: search for the code or name of the product you want, add it to the cart and proceed with the order.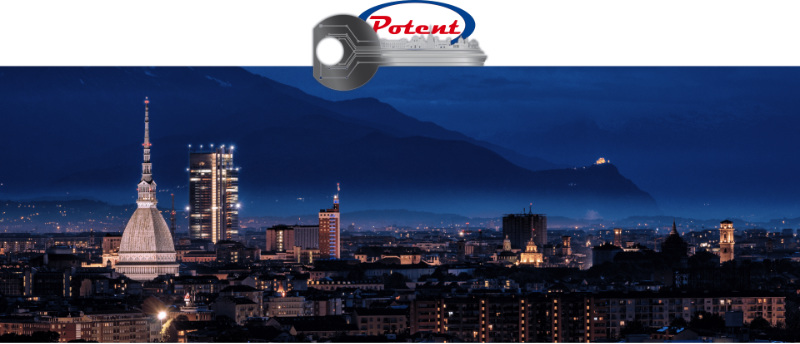 Potent: discover a wide range of security products
Among the Potent products we find several professional anti-
burglary
items:
Security locks;
Lock cylinders;
Padlocks;
Locks for armored doors;
Locks to apply;
Locks for shutters and overhead doors;
Universal lever locks;
Peepholes;
Safes to wall and lay;
Locks for safes;
Lighting;
Tooling.


Powerful European profile cylinders for safety locks
Passive safety always passes through the
lock cylinders
. Potent cylinders are available in several versions and with
different safety levels
to satisfy every type of market requirement.
From cylinders for the first installation on construction sites, to maximum security cylinders with patented profile key and European SKG certification.
Powerful padlocks for every need
The padlock represents the first level of mobile and removable passive security. The Potent brand, with more than twenty years of experience in the padlock sector, offers
different ranges and versions
, suitable for all needs of use.
Solid brass padlocks with hardened steel locking arch, steel-coated brass padlocks, bell padlocks for shutters, anti-perforation padlocks with hardened steel body and mobile locking systems.
Powerful security locks for doors
Security locks are the core business of the Potent brand.
With over 50 years of activity and production, the company offers several models:
Locks for armored doors cylinder versions with anti-extraction systems, double-bit versions with key re-coding system;
Locks for wood , available in lateral, triple and fivefold versions with "H" system;
Locks for rolling shutters in central and lateral versions, vertical cylinder system and double bit.
Powerful safes of all types
Potent safes
in key, key and mechanical combination versions, digital with keyboard for private and hotel use.
In addition, the Potent brand offers a wide range of
locks for safes
.

Why choose a Potent lock?
The keywords of Potent products are
quality, reliability and customer satisfaction
.
Potent locks quality
The quality level of Potent items is guaranteed by the UNI EN ISO 9001 system certified and updated by TÜV SÜD Italy. Potent verifies products and projects according to UNI ENV international standards.
Reliability of Potent safes
The constant monitoring of projects offers the customer the security of a solid company looking for continuous growth in terms of quality and projected towards future evolution.
Potent cylinder technology
The design phase makes use of a three-dimensional CAD system that allows the creation of more sophisticated products and components and more precise controls from the earliest stages of construction.
Growth in Italy and abroad
The Potent sales network, developed in Italy and abroad with the collaboration of agents and sales managers, is constantly expanding to adapt to the introduction of new products and the evolution of the market.