Siena Handle on Square Rose Brass Pfs Pasini i-Design
Couple of brass door handles for interior doors, 100% Made in Italy. It has a modern and charming design.This door handle is available in three different finishes: polished brass, chrome and satin chrome.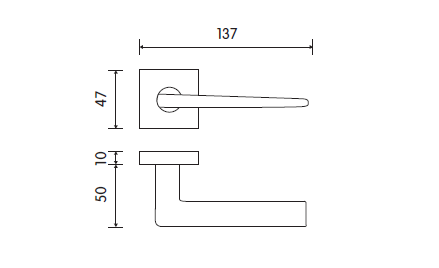 The processing
Every product of PFS Pasini we make follows different and accurate processing stages. From the mould production, through the mechanical processings and the polishings up to the final finishings.
Finish and key hole of your choice:
Customize your Pasini handle by selecting the variants.


i-Design PFS Pasini
The minimal, innovative and original style of the i-Design line presents unique and amazing characteristics: sharp, sophisticated, sinuous and elegant lines that today are the new standard for the design handles.
"Design should bring the best at minimum cost"
This thought accompanies in every moment the spirit which carried us to create a new Company and to develope a precise quality-oriented product, research and service. A Company which imposes itself on the market with maximum seriousness in the processing and care for the details. Everything is co-ordinated by a team of years-experienced and specialized people. Every product which is branded i-Design is totally made in Italy.

Since 1967 - Touch the Pasini Style
Our hands are the symbol of a continuous movement: hands touched, touch, shake, caress, transform the world around us, realize our ideas and our projects. The perfection of touch is the extent to which it acts. It says the delicacy to pass all the love possible from body to body.
Our work is the thought of a guaranteed product and beautiful, but also a gift, silent protagonist of your life.
Tap a Pasini handle is receiving our hidden love.
Each product is made to be secret protagonist of your daily live in harmony with shapes, colors, nature, and in the sign of the oldest Italian tradition: the art creative.
100% Made in Italy
The Pasini factory is located in Sabbio Chiese, in the province of Brescia halfway between Lake Garda (Salo) and Lake Hydro (Hydro).