Kato 253 Nekos Chain Actuator 230V 250N Selectable Stroke 240/360mm White Black or Gray
Kato 253 Nekos: chain motor for top hinged windows, transom windows, domes and dormer windows
Kato 253 Nekos
: it is a chain motor with selectable stroke. Ideal for opening top-hung windows, transom windows, domes and dormer windows.
Kato 253 Nekos linear electric actuator
with
double-row four-link articulated chain
, enclosed in a suitable container of composite material, suitable for moving top-hung windows, bottom-hung windows, domes and dormer windows. Power in traction and thrust 250N. Powered at 110/230V AC 50/60Hz.
The Kato 253 Nekos engine is supplied
complete with brackets
for quick assembly without the use of screws (patented). Brackets
for bottom-hung or projecting doors
with quick coupling (patented).
Two mechanical selection strokes
in opening. Limit stop in opening and closing with power absorption and as overload protection.
Can be connected in parallel. Compliant with Directives 2004/108 CE (EMC Directive) and 2006/95 CE (BT Directive).
Kato 253 Nekos actuator colours:
Black (approx. RAL9004) with black power cable, White (approx. RAL9003) and Gray (approx. RAL7047) with white cable.
Kato 253 Nekos: the slim and simple chain actuator
The Kato 253 window motor is the skilful evolution of Nekos development to meet market needs. Small, intelligent and for all "budgets"!
Simple selection of the two strokes mechanically, between 240 mm and 360 mm.
Equipped with a microprocessor with the following functions:
Progressive starting ramp.
Power control over the entire stroke.
Race selection even simpler and more immediate.
Relax function for relaxation of mechanical parts after each limit switch.
Accessories compatible with the entire Kato Nekos series.
It has a
small size
, the body and the brackets are made of high resistance composite material (polyamide loaded with glass fibre).
Also this actuator adopts the same patents as the chain actuators produced with Nekos technology, both for the quick coupling support of the actuator and for the leaf attachments.

Technical data Kato 253 230V Nekos:
Model: KATO 253/230V;
Push and pull force: 250 N;
Strokes (select anytime): 240, 360 mm;
Power supply voltage: 110÷230V~ 50/60Hz;
Current draw at rated load: 0.180A;
Power consumption at nominal load: ~ 30 W;
No-load travel speed: 13.5 mm/s;
Duration of idle stroke (240 - 360 mm): 18 s - 27 s;
Double electrical insulation: YES;
Service type: S2 of 3 min;
Operating temperature: - 5 + 65 ºC;
Degree of protection for electrical devices: IP30;
Adjustment of the attachment to the frame: Self-determination of the position;
Parallel power supply of two or more motors: YES (recommended max 30 actuators);
Synchronized operation: NOT foreseen;
Static holding force: 1500N;
Limit switch in opening: Absorption of power;
Closing limit switch: Absorption of power;
Power cord length: 1m;
Dimensions: 356x56x33.5mm;
Appliance weight: 0.840 Kg.
KATO 253 230V: powered by 110/230V~ (ac), 50/60Hz (±10%) mains voltage, with three-wire power cable (BLUE, common neutral; BLACK, open phase; BROWN, phase closes).
Each pack contains:
Kato 253 Nekos actuator with power supply cable directly connected to the machine.
Standard support brackets with spacer (A).
Bracket for bottom hung attachment (C).
Bracket for projecting connection (D).
Drilling template.
Small parts pack.
Instruction manual.
Check that the appliance has the same type of electrical power supply as that available for connection, checking the data shown on the label applied to the actuator.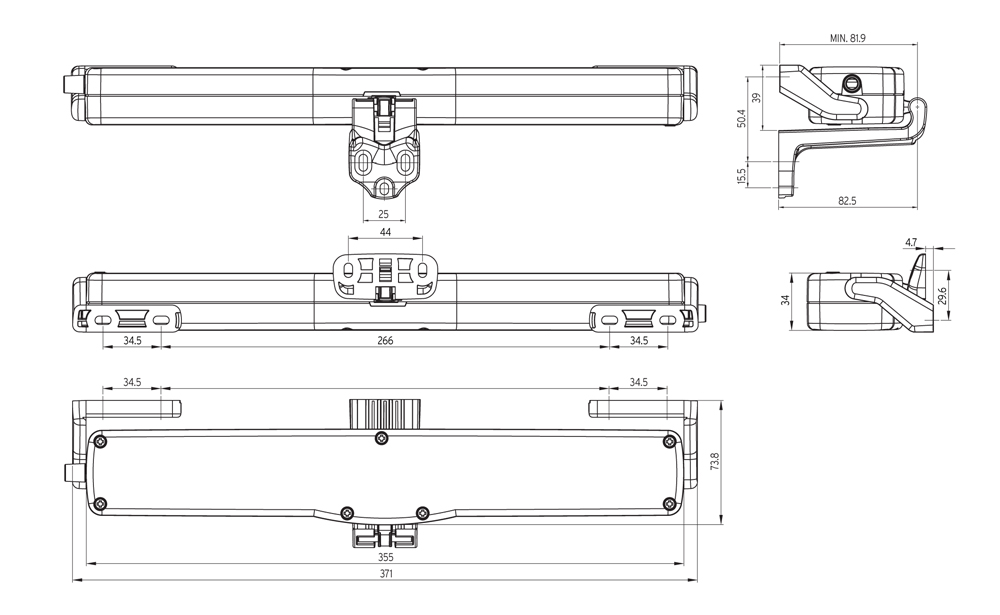 Discover the quality of Nekos Made in Italy actuators
Nekos products are
built in a workmanlike manner
in terms of safety, in compliance with the provisions of current laws. Correctly assembled, installed and used in compliance with these instructions, they do not constitute a danger to the safety of people, animals or property.
The products that fall within the field of application of the EEC directives comply with the essential requirements contained therein.
CE marked
, they can be placed on the market and put into service in the European Union without further formalities.
For further information on this product (use, safety, cleaning, guarantee, certificate of conformity and much more) we recommend reading the
Instructions
(PDF downloadable in "Documents").