Kato 253 Nekos Chain Actuator 230V 250N Adjustable Stroke 240/360mm
Chain actuator for awning windows, hopper windows, dormer windows and light domes.
Electric linear actuator with double-row four-link articulated chain enclosed in an appropriate composite casing, suited for moving awning windows, hopper windows, dormer windows and light domes.
The actuator has a push and pull force of 250N and is designed to function at 110/230V AC 50/60Hz.
It is supplied complete with quick coupling screw-less assembly brackets (patented). Awning or hopper window brackets with quick coupling (patented).
Two opening strokes with mechanical selection. Stroke-end stop during opening and closing at power absorption and as protection against overloading. Can be connected in parallel.
Complies with the Directives 2004/108 EC (EMC Directive) and 2006/95 EC (Low Voltage Directive).
Colors:
BLACK (approx. RAL9004) with black power cable, WHITE (approx. RAL9003) and GREY (approx. RAL7047) with white cables.
Slim and simple...
KATO 253 is the skillful evolution of Nekos development to meet market needs. Small, intelligent and affordable for everyone...! Simple mechanical selection of the two strokes, 240 mm and 360 mm.
Equipped with a microprocessor with the following functions:
• Progressive starting ramp;
• Power control over the entire stroke;
• Even simpler and more immediate stroke selection;
• Relax function for relaxing mechanical parts after every stroke-end;
• Accessories compatible with all the KATO series.
It is compact and the bodywork and brackets are made of highstrength composite material (glass fiber reinforced polyamide).
This actuator also uses the same patents as the chain actuators produced with the NEKOS technology, both for the quick coupling support of the actuator and for the window attachments.

Technical data:
Model: KATO 253/230V;
Force exerted by thrust and traction: 250 N;
Strokes (can be selected at any time): 240, 360 mm;
Power supply voltage: 110÷230V~ (a.c.) 50/60Hz;
Rated absorbed current: 0,180 A;
Power absorbed at nominal load: ~ 30 W;
No load speed: 13,5 mm/s;
Duration of no load stroke (240-360 mm): 18 s – 27 s;
Double electrical insulation: YES;
Type of service: S2 of 3 min;
Operating temperature: - 5 + 65 ºC;
Protection index for electrical devices: IP30;
Adjustment of connection to window frame: Automatic definition of position;
Parallel powering of two or more motors: YES (max 30 actuators);
Synchronised function: Not foreseen;
Static hold force: 1500N;
Stroke-end at opening: At absorption of power;
Stroke-end at closing: At absorption of power;
Length of power cable: 1 m;
Dimensions: 356x56x33,5 mm;
Weight: 0,840 Kg.
KATO 253 230V~ (a.c.): runs on grid tension of 110/230V~ (a.c.), 50/60Hz (±10%), with a three wire cable (LIGHT BLUE, common neutral; BLACK, phase open; BROWN, phase closed).
Each package contains:
• Actuator with electrical cable directly connected to the machine.
• Standard support brackets with distancer (A).
• Bracket for transom window (C).
• Bracket for outward opening fixture (D).
• Drilling template.
• Small parts packaging.
• Instruction manual.
Check that appliance has electrical feeding type equal to the one provided by checking with the data reported on the label attached to the gear motor.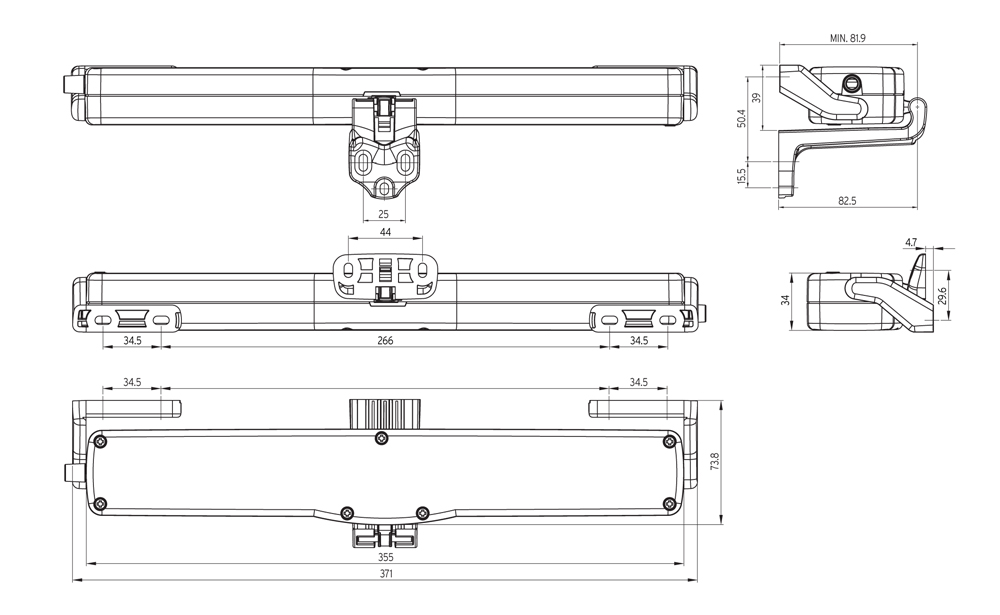 Nekos products are specially manufactured in safe materials in compliance with the requirements of legislation in force.
When correctly mounted, installed and used in accordance with the present instructions, our products constitute no danger to people, animals or property.
Products subject to EU directives comply with the essential requirements stipulated by the latter.
If you need more information about this product, we recommend reading the instructions ( PDF download in "Documents ").