Royal Pat shelters: online sale at discounted prices
The company was founded in 1981 when Giampiero Properzi, just of age, created a small factory of aluminum and PVC windows . The transition from an artisan company to an industrial company took place in 1989 with the start of the production of a patented system for moving the slats of the adjustable shutters under the "Kit" brand, which still today is at the forefront with numerous proposals and solutions.

Today Royal Pat is the owner of over 50 patents and with the brands " Aluform " (components and accessories for entrance doors) and " New Entry " (canopies and furniture components for the entrance), it is a reference company, in the sector, for research, innovation and professionalism. Despite their distinct identity, the brands of the group share the same philosophy: to make the entrance and the surrounding environment more comfortable.

The quality of the materials used in the construction of the Royal Pat shelters and the controls on each production phase ensure exclusive and recognizable objects to the market.

Royal Pat products are able to stand out for the right mix of innovation and creativity .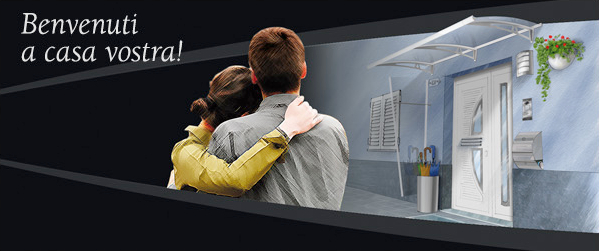 Custom made Royal Pat aluminum canopies
Royal Pat polycarbonate and aluminum canopies have always distinguished for quality, innovation and creativity . Despite their distinct identity, Royal Pat products share the same philosophy: to make rooms more comfortable right from the entrance, to make you feel at home before you even enter.
Discover the best professional polycarbonate canopies
Buy your new professional shelter on Windowo at advantageous prices: read our guide to buying shelters .