Arte Dreh Kipp Window Handle Linea Calì Vintage

Model:
Arte - Dreh Kipp Window Handle.
Material:
Brass.
A beautiful flower gives grace and majesty to this Liberty collection inspired by the works of Alfons Mucha, a Czech painter and sculptor, one of most important Art Nouveau artists.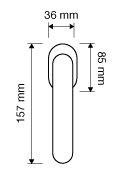 Finishings at your choice:
customize your Linea Calì handle.
Linea Cali - Opening Doors with style
Linea Calì born in 1986, when they launched products that combined both functionality and design.
Every handle is designed and created exclusively in Italy, in full compliance with the legislative requirements of European standards.
Only Made in Italy
Linea Calì produces high-quality handles, and it does so only in Italy.
The plant is located in Vobarno (BS).