Porthole Small Rubber Rectangular Plexiglass Colombo
R = 150mm
MEASURES (mm):
750x1200, 450x1200, 650x1300, 550x900, 450x1000, 450x650, 300x600.
TECHNICAL CHARACTERISTICS
:​
Realized in black EPDM rubber;
Plexiglass: trasparent or satiny;
Black vulcanized ring junction;
Anti-aging composition;
Rubber and plexiglasses are assembled;
Rubber: small (panel 25-39mm).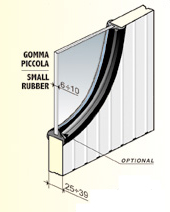 The measures refer to the glasses.
Rubber and glasses are assembled: easy and safe laying.
All the materials are certified.
To realize the opening on the panel you have to increase the side measures +24mm and the rad measure +12mm. For example Ø550=Ø574.