Draft Excluder for Doors Comaglio 1700 Pressure Series Various Sizes
Article:
1700.
Dimensions:
53-63-73-83-93-103-113-123-133 cm.
Can be shortened by:
10 cm.
Doors:
armoured, wood.
Pressure Series:
mechanism twin adjustment (DR).
The draft excluder Comaglio is a patented automatic system that, when the door is closed, it automatically blocks the possibility that cold, dust and noise, can invade your environment.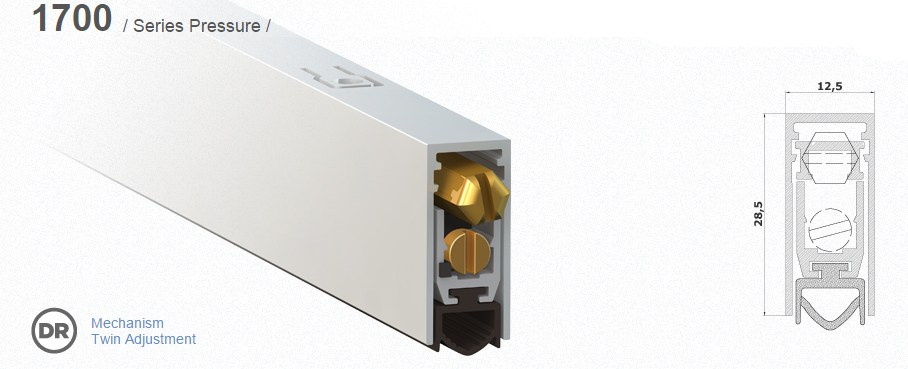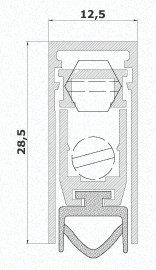 Pressure Series
The Pressure Series is characterized by the patented
mechanism twin adjustment;
it is a patented mechanism aimed at the perfect closing of the gap between the door and the floor, also on the opposite side to the button pusher.
This closure is achieved thanks to a strong pressure that the seal exerts on the floor in a homogeneous manner over the entire length of the door. This is essential for optimum sealing under normal conditions and is even more evident in difficult situations which, however, often occur: concave floor, tile bumpy, etc.
Standard accessories:

Standard equipment:
Hexagonal push button brass;
EPDM seal balloon.
Optional equipment are available separately on request (contact us for a custom quote).
Comaglio: under your door will not pass anything
Along the 30 years of its history Comaglio has always kept unchanged the features that distinguished their draft excluders: product quality attention to detail, attention to customer satisfaction, prompt response to the needs of a constantly expanding market.