Sky450 Nekos Rack Operated Actuator 450N 230V Track Runs 180-230-350-550-750-1000mm
Essential...
Designed based on the SKY family, it combines force and versatility in a machine that has a push and pull force of 450N.
The load-bearing structure is made of high-strength composite material (glass fiber reinforced polyamide), with steel rack having a round cross-section.
A sliding clamp system allows the actuator to be fastened at any point along the entire length of the rod, even at the head, and the support can oscillate in order to adapt to the rotation of the window.
SKY 450 is applicable in tandem with a single rod for a second push point.
Strokes available:
180, 230 mm for sun blind blades and slats, 350, 550, 750, 1000 mm for windows.

Specifications:
Linear rack actuator suited for moving awning windows, hopper windows, dormer windows and light domes.
Push and pull force of 450 N with one or more push points.
It is designed to function at 230V AC 50Hz.
The actuator comes complete with universal swivel bracket that can be fixed at any point along the rod with two sliding clamps.
Stroke-end at absorption of power in opening and closing and as electronic protection against overload.
Can be connected in parallel.
Complies with the Directives 2004/108 EC (EMC Directive) and 2006/95 EC (Low Voltage Directive).
Standard colors:
ANODIZED SILVER for metal parts in extruded aluminum and GREY (approx. RAL7035) for the shell of the gear motor.
The power supply cable is always white.
Technical data:
Model: SKY 450;
Thrust and traction force: 450 N;
Course lengths: 180, 230, 350, 550, 750, 1000 mm (*);
Input voltage: 110/230VAC 50/60 Hz;
Current absorption at nominal load: 0,250 A (110V) / 0,160 A (230V);
Travel speed without load: 5,5 mm/s;
Length of run without load: In accordance with length of truck run;
Double electrical insulation: Yes;
Type of service: S2 of 4 min;
Max. and min. temperatures for function: -5 +65 ºC;
Degree of protection for electrical devices: IP44;
Adjustment of socket at casing: Position self regulating;
Connection in parallel of two or more motors: Yes;
Connection in tandem or in series: Yes;
Limit switch stop at opening and closure: At absorption of power;
Protection against overload at opening and closure: At absorption of power;
Dimensions: 115x42x(Course length+135) mm;
Weight: Varies according to construction.
(*) Technical personnel can shorten track runs by adjusting the internal limit switches.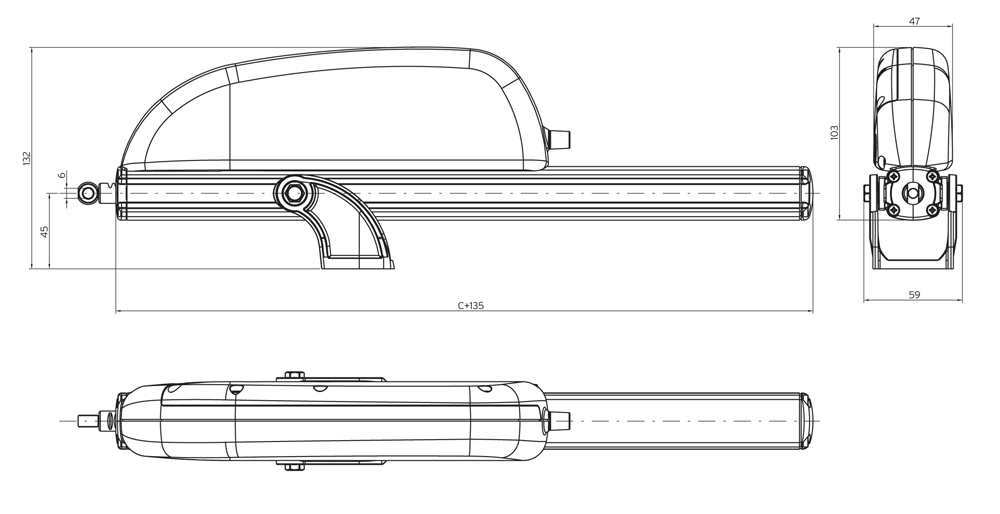 Check that appliance has electrical feeding type equal to the one provided by checking with the data reported on the label attached to the gear motor.
Nekos products are specially manufactured in safe materials in compliance with the requirements of legislation in force.
When correctly mounted, installed and used in accordance with the present instructions, our products constitute no danger to people, animals or property.
Products subject to EU directives comply with the essential requirements stipulated by the latter.
If you need more information about this product, we recommend reading the instructions ( PDF download in "Documents ").