Bordogna Casseforti, the italian leader in the construction of wall safes, mobile safes, armored cabinets, armored vaults, safes for weapons storage and floor safes.
Bordogna: keep items and documents safe!
Bordogna Casseforti is a leading company in the design and production of safes and
passive
safety
systems and is a symbol of Italian
quality and style
, both in the national and international market. Founded in 1943, its technical and operational structure is constantly evolving. By implementing all the quality, system and product standards and providing 360 ° services, the group has embarked on the path of professionalism and quality. The experience gained in the field, the important logistic resources, the technical skills and the avant-garde structure guarantee, from the beginning of the project, the reliability of Bordogna products, compliant and certified, each according to the specific reference standards.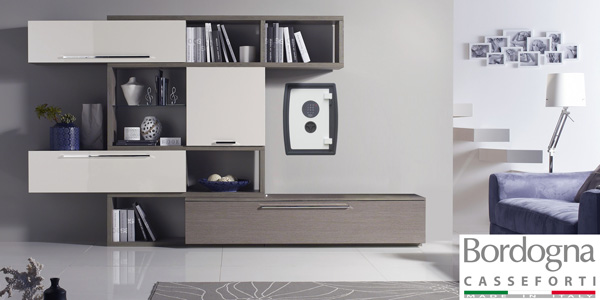 Elegant and certified safes to resist against thieves
Bordogna revolutionizes the security market:
safes built according to the best recognized techniques and with materials that respond to the most powerful attacks of the moment. Most of the Bordogna safes are certified with different degrees of resistance according to the main European Standards (EN 14450 and EN 1143-1).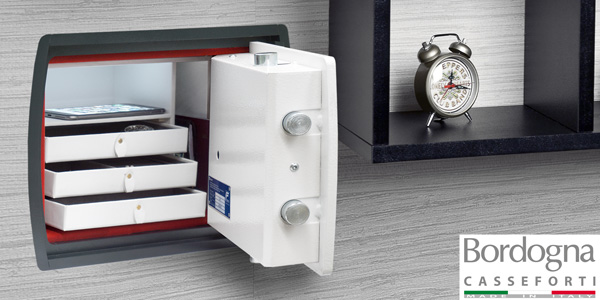 A safe and durable space for securing jewels and precious objects
What kind of safe do I need?
This depends on individual needs - what do you want to protect, and what will the security needs be in the future? In addition to cash, watches and jewelery, electronic devices are also particularly popular with thieves. Therefore, the safe should be large enough for notebooks, iPads, cell phones and smartphones, digital cameras and other high-tech products.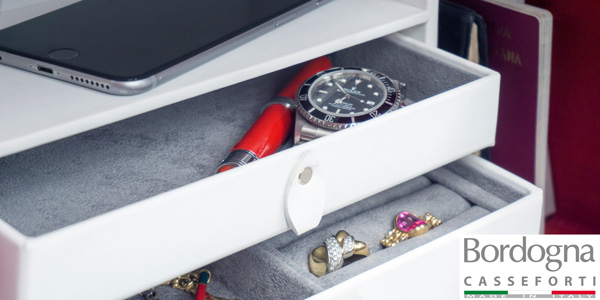 Bordogna, certified quality for your safety
Why is certification so important?
Certification is important because it is based on the demanding European standards. Their criteria are rigid and do not allow manufacturers to break. The ECB · S certified products have been subjected to the fire test and have successfully provided proof of their resistance. External quality surveillance checks conducted at regular intervals at production sites are a standard.